A very rare occurring , that I have never seen before may unfold tomorrow night, and that is thunderstorms in November, late November none the less.
Right now we have unexpected showers moving through, mainly light but it was supposed to be a clear night. The Canadian high pressure is further north than expected and the front is coming north earlier than expected, so while the High pressure did send down enough dry air to stop any heavy rain, it eneded up too far north to clear the clouds and shut off the rain all together
A strong and dynamic low is developing over northern Texas, that is a pretty impressive low getting its act together . You can also see that the moisture train is slowly coming northbound again as the cold front is stalling and eventually will come north as a warm front due to the SE ridge forcing the storm track into western PA
the deepest moisture is going to take a little while to move north due to the high pressure north of us but should be over us by tomorrow morning. The developing warm front is getting its act together and will create very strong lifting , this will be our main rain maker. This strong lifting and dynamic system is going to set the stage for VERY HEAVY rain and thunderstorms tomorrow night through Wednesday afternoon. There is also going to be a very strong jet streak out of the SE which will cause these storms to be very gusty. Winds aloft will be out of the SE at 45-55 for a time so the heavy downpours and thunderstorms would bring some of these winds to surface at times and being this is a dynamic storm , the thunder could be quite loud and a lot of people may be waking up early Wednesday morning.
Looks like the worst will be over by Wednesday 2 pm but rain will still be possible through the day with a cold front that will come through. The track of the LOW  will keep the rain prolonged. Some models are showing a 3-4 inch rainfall, im calling for 2-2.5 inches, 3-4 seems a bit high but I will be watching the radar and will have to see just how many thunderstorms and downpours develop.
HPC FORECAST
The idea is that while the low is moving through and east of northern NJ is that it creates a band of heavy rain from NE NJ to Long Island while strengthening  so the heaviest rain is over Northern NJ
The latest model came to more of my thinking with 2-2.5 inches heaviest over northern NJ and Long Island. I think this will cause some flooding problems and coastal flooding problems as it is but being its the busiest travel day of the year makes it that much worse
You can see November turned from calm to wet.
Thursday will have a chilly fell to the air with highs 45-50 and a gusty NW wind behind the storm lows in the upper 20s to 30 and Friday – Saturday will warm up to 55-60
Models are hinting at a "cut off low" which is a low that gets detached from the jet stream and just kind of meanders around until another storm comes along to pick it up. They have this low meandering basically from Sunday Wednesday next week. It depends on the exact placement and these are hard to forecast but it looks like another significant rain event is possible early next week. It looks like the low will meander in the middle of the country and a slow-moving cold front will move through sometime next week bringing a possible heavy rain event but like I said its impossible to track these cut off lows more than 2 days out so just something to keep an eye on
This storm looks to carve out a trough over the East and bring our first real feel of winter in time for December and looks like finally a sustained cold outbreak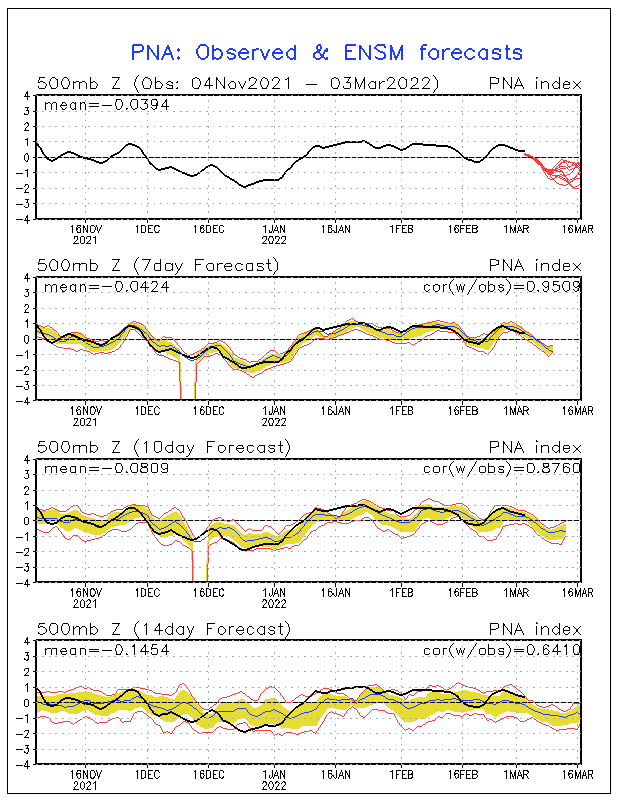 This is the main thing that kept November overall warm , the -PNA created a trough in the west and ridge in the east, now its forecast to go positive with a ridge in the west that will allow cold air from Canada to come south for the Midwest, Northeast and Mid Atlantic and the NAO want to come more towards neutral to possible slightly negative