My 2nd rant on why winter weather should not be expected anytime soon
Here is our problem and why winter is not visiting us anytime soon
Here is the Arctic Oscillation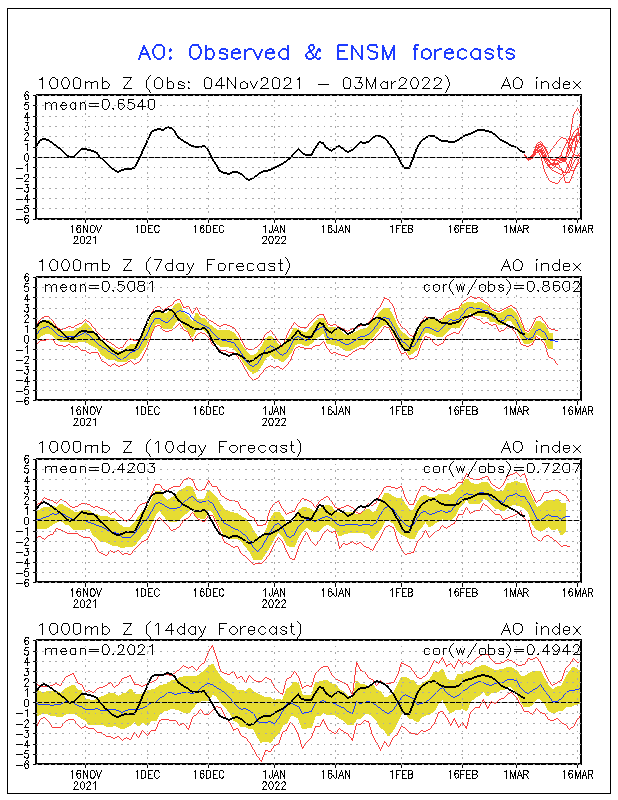 Its is extremely positive, which means the Polar vortex is stuck in Northern Canada and with that the colder air is trapped. And with the NAO positive and no blocking, any cold air that can make it down here is kicked out within 2 days. After Weds and Thursday of near average temps, temperatures will rise above normal into the mid to upper 40s by Friday and next weekend looks quite warm for the New Year. Several weak clippers will pass north of us leaving us in the warm side with a few rain showers possible Friday-Sunday and warm temps near 50, again no blocking in the Atlantic. AO is forecast to remain positive with a gradual fall off , but still remain positive, as long as it is positive at all, we remain warm.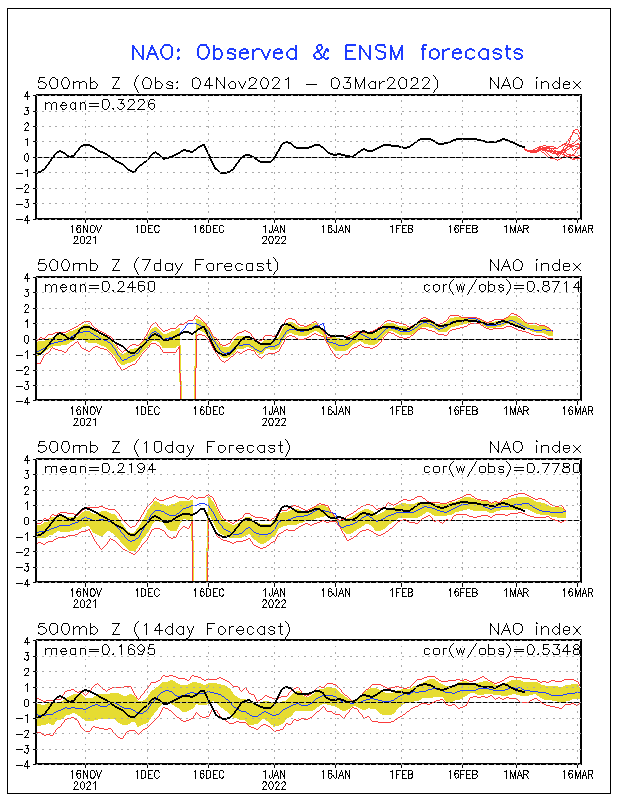 .
NAO forecast to remain positive well into January, there's a drop off at the end but that's impossible to forecast more than 7 days out, the chart as looked the same since November, NAO positive forecast to go negative , only for it to remain positive
What do we need to happen to get winter going? Well ALOT needs to happen
1. First , we have to get rid of the stubborn upper low and trough over Alaska, which returned unexpectedly 5 days ago, just when we were seeing signs of hope, now we are back to where we were in November
2. Polar Vortex of Northern Canada has to move south and weaken. That would A. let cold air come into the US and B. pump up a ridge over Greenland, that is step 3
3. NAO has to go neutral to slightly negative, which is what is stated above, Polar Vortex has to come south and weaken so a ridge can be pumped up over Greenland to block up the pattern
Basically the whole 500mb pattern has to change throughout North America, in the Pacific and in the Atlantic.
There is 2 things on our side and 2 things only
1. PNA- PNA is positive, so there's a ridge over the west a very slight ridge, just enough to steer storms up the eastern US, that's all it does though and provides us with rain storms n the pattern we are in now.
2. Stratospheric warming The stratosphere is warming which MAY support a very slow and gradual fall off of the AO and NAO. Key word there is MAY. Stratospheric warming does not guarantee blocking , just enhances the chances, and even if they do start falling off , it's going to be slow and gradual and take a long time to get from the positive to extreme positive levels to favorable negative levels.
There are 2 things with us (not guaranteed) and several things against us = NO WINTER ANYTIME SOON
Every pattern breaks down eventually and I do expect a break down, but slow and will take several weeks to get where we need it to get cold and snow. My call is for 3-5 weeks before any notable and big changes take place, taking us through the end of January.
The end of January into February could be interesting but I DO NOT see any real chance of a snowstorm through January 20th probably later than that even (im leaning towards the 4-5 weeks right now)
I see ONE  tiny glimmer of hope, a little speck of optimism and that is in the image below
Here is January 2nd-3rd and there's a powerful storm system over Western PA. Yes that is rain, but it takes a powerful storm system to get pattern changes going. Again it's not guaranteed but possible that this system starts the pattern change as it heads into the Northern Lattitudes perhaps we can get a ridge to start building over Greenland.
The European model shows a dominant trough right after this storm, I do not think the pattern will break down that fast and here is why
This warm pattern is not only over the eastern US but THE WHOLE NATION!! A huge widespread warm pattern like this does not break down fast and the AO AND NAO at such positive levels, it's going to take some time for them to fall to favorable levels.