Well we are entering the last month of true winter , before Spring time and here are my thoughts on the upcoming month
Will it finally actually feel and look like winter around here?
Based on what I am seeing , NO. Its becoming quite obvious February will bring more of the same in my opinion if not even a worse pattern than we have been in for winter weather. Many forecasts are calling for a block buster end to winter with snow and cold, im playing devils advocate and am about to explain why
This is the thing that really has my attention and that is La Nina, its still weak as its been all winter. It was east Based which would point towards a good winter pattern, without the Alaskan vortex but ill get into that later
The most important thing to note is that the LA NINA IS WEST BASED NOW. West based La Nina means a warm east coast and a SE ridge 99.9% of the time. There has been a SE ridge but very weak and basically non-existent.
Our saving grace would be a -NAO , well there's not much pointing towards that happening, our stratospheric warming which we were relying to change the pattern, is weakening and slipping away.
As many of you know since mid December I have been on the warm train but the evidence all pointed to a pattern change and I jumped on board, it did influence the pattern but not in the way expected
For one, instead of high latitude blocking developing over Greenland like expected, it has developed over Asia, the complete other side of the world. Thats where we were back in November
2, The Alaskan vortex, that dreaded thing is still there, and with the stratosphere cooling back down there is no signs of it become misplaced or weakening, the circulation around that vortex brings warm pacific air into the Country and leads to a progressive pattern. If this was misplaced by just a bit over the Aleutian Islands this winter would have been awesome
NAO – We were relying on stratospheric warming to turn that negative, not likely now though, if it does happen it would suppress the SE ridge but I wouldnt count on it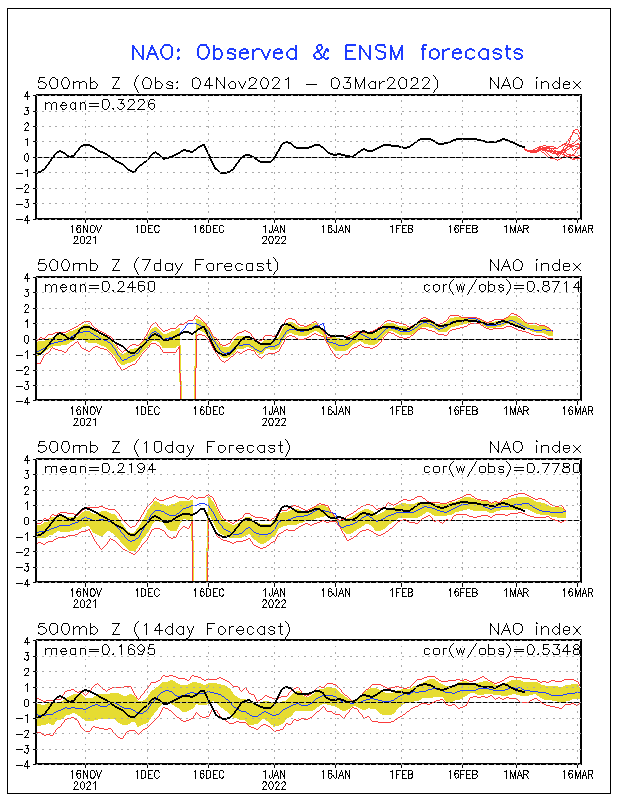 The GFS which is the colder model has the NAO staying positive
Then we go to the Euro, which is the more accurate and we get this
And the NAO is forecast to remain +. and this isn't only the models im going off of but observations that point to it not going negative
So overall
Above average temps
Average to slightly above precipitation as all of our storms have been pretty dynamic
Below average snowfall overall, wouldn't surprise me if its snowless but I don't think it will be that bad
Thanks for reading, Spring forecast to come out on or around February 15th