Theres not much to talk about for this upcoming week, just a lot of sun and warmth. But starting late week and weekend models are saying we finally go wintry
Below are the MJO forecasts, I explained this in my last blog but all we have to know is that phases 7-8-1 are what we need to get into a winter pattern, the first is the European models forecast, the 2nd is the GFS forecast
As you can see both are in general agreement , which doesnt happen very often. Both bring it to phase 7 then kind of diverge on the strength and how quickly it may go into phase 8 , Phase 8 is the best phase for east coast snow storms but 7 will get the job done as well.
This is what it's going to come down to though, because this will determine whether we can get a ridge to develop in the west. I am a bit more confident now because the MJO is now in phase 6 heading towards 7 fairly quickly. The MJO in phase 7 will build a ridge in the west which is what we need to get a trough to dig down the east coast
And the models agree on something like this
Look at that monstrous ridge in the west, that will get the job done of bringing cold and snow to the east coast, no doubt, if it was to work out this way
One thing we are missing is the NAO block, so in order for these storms to track up the coast and not inland that ridge out west will have to be in the perfect spot
One of these storms , we are watching for Friday into Saturday
The GFS brings a storm up the coast, its been flip-flopping all over the place between up the coast , inland or OTS. Out to sea is out of the question right now I think, my worry is it phases early and heads inland bringing another rainstorm to the NE,
The Euro has 2 storms, 1 tracks inland with a big ol rainstorm then the 2nd heads up the coast with a snow storm
GGEM and DGEX models both bring the storm up the coast with snow I95 points NW
In a pattern like this there will be a lot of storms to watch and another thing on our side is this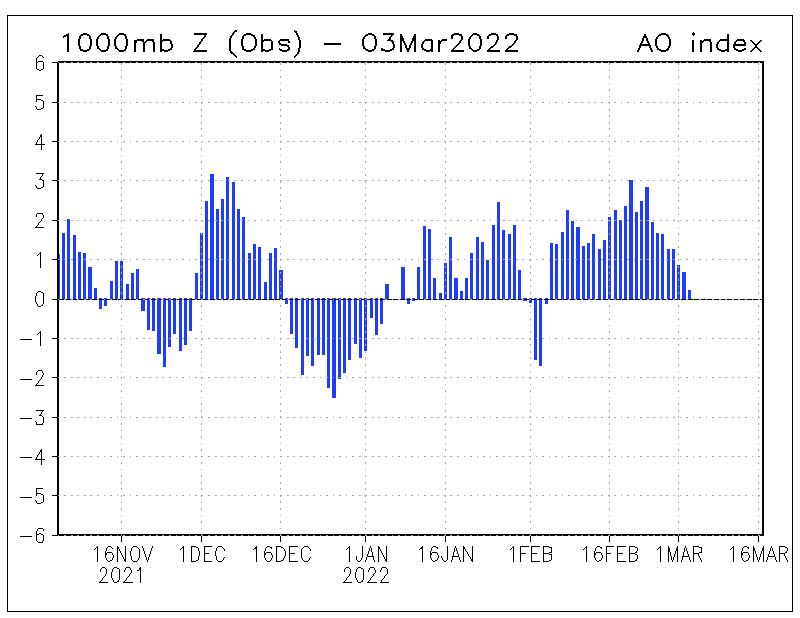 The AO is down in the dumps, its -4 to -5 right now!! That will help cold air get into the eastern US for sure.
I'm not buying this completely as this was shown a few times this winter so far but the potential is there for at least a few weeks of stormy and cold weather. Theres good model agreement and that fact that the MJO observations say its in phase 6 heading towards phase 7 definitley increases confidence. If this patern develops as modeled , there will be snow and cold, and we would get to our average snowfall easily.
So think snow, this is our last chance and last hope for a change to get some snow before spring comes along!!!