It appears as if winter will make a come back, at least in the cold department anywaymaybe with a vengence
This week overall is going to be tranquil and quite warm ( for the time of year , at least Wednesday anyway) but the whole week will be slightly above to well above normal
Starting off with today, this will be coldest of the next 5 days or so with highs around average in the mid to upper 30s , lows 18-26
Tomorrow we will start to warm up as a warm front comes from the south later tonight and high pressure takes hold with highs 40-47 degrees lows 30-36, sunny to partly cloudy skies
Wednesday a cold front will come south,ut ahead of the front temps will spike with highs 50-60 degrees, some showers will be possible, maybe a thundershower?
Colder air will come in behind this front, by no means is it as cold as it could be but more towards average with highs Thursday in the low 40s and Friday in the 30s
Friday we are watching a potential weak storm system that COULD bring some light snow and snow showers to NJ , especially southern NJ but some models spread light snow through the whole state, NYC and Long Island. There potential we could squezze out an inch or 2 especially coastal areas but ill watch it
Saturday should be nice overall increasing clouds towards night ahead of our next storm system highs around average to slightly below in the low to mid 30s
Sunday we watch a storm system, as of now it looks like it should cut west of us with potential to transfer off the coast and give rain changing to snow for many locations, this storm I am watching closley. I dont think it will be too significant but could bring a bout of wintry precip
After this storm, its going to get COLD plain and simple, whether its rain or snow or both, theres going to be some serious cold air after this one goes through
This image sums up the current pattern nicley, a huge ridge building in the western US and into western Canada, which will force a trough to drop down into the eastern US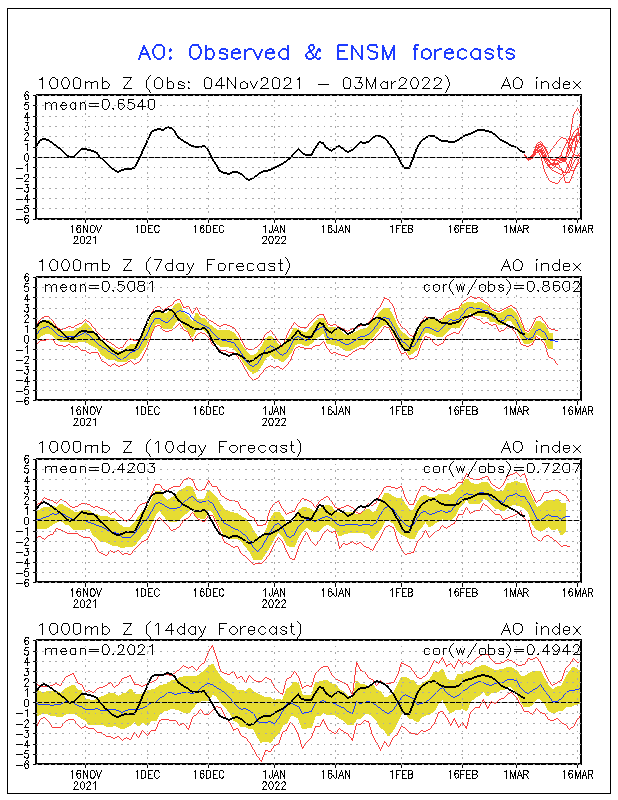 The Arctic oscillation is deeply negative and will stay that way for the forseeable future, so cold air will not have any problem coming south
Heres my concern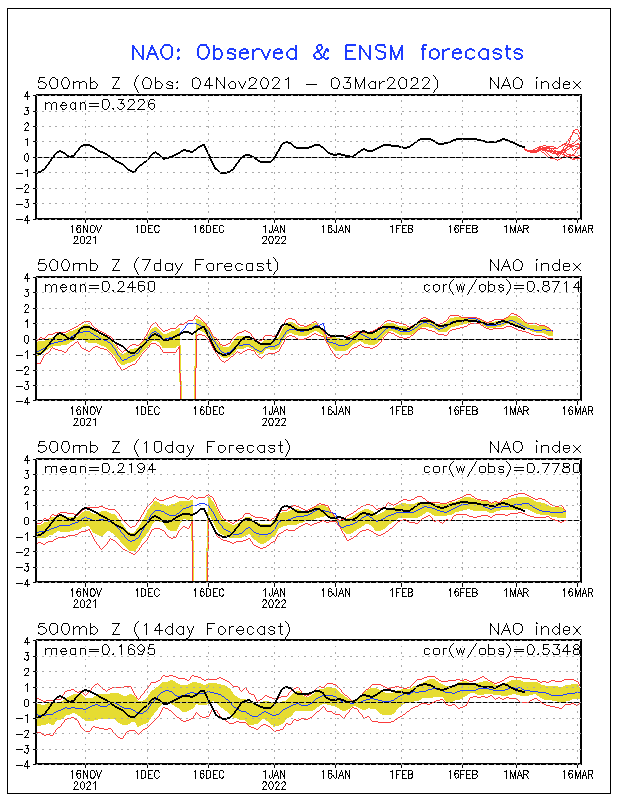 This is the NAO forecast, it is expected to stay neutral to positive, this means the pattern will still be prgressive in nature most likley so we will probably have an occasional warm up here and there and a lot will have to go right to get a decent snow storm. The timing of cold air and high pressure to the north will have to be absolutley perfect to get all snow storms or all wintry storms. This pattern will probably yeild  small to moderate events, and alot of snow changing to ice or snow changing to rain solutions. Without a block in the Atlantic, cold air will be able to retreat, and there will be little chance to get that big blizzard we all know and love unless everything goes perfect which doesent happen often.
But still looks like we are going into a pattern that will yield a lot of potential for at least some snow and wintry precip and lots of cold air, probably transient in nature with a few warm ups thrown in here and there.