The record warmth from the past 2 days is now gone and more seasonal air mass is in place, and looks to stay seasonal for a while.
Todays cloudy skies were due to a weak low that passed well south of the area, but as high pressure from the North moves south , skies will clear out tonight lows 23-30
For Friday, highs will be similar to those of today, in the low to mid 40s which is basically seasonal now as the sun angle is going higher and higher, days are getting longer, so average temps are now on the rise , it will be sunny with a bit of a northerly breeze. Lows again around 23-30
We are going to remain in a very tranquil period of weather through the weekend and into next week
Saturday again will be sunny with highs in the low 40s and lows 18-25 and Sunday will be identical. High pressure will be strong to the north, so its going to suppress the possible storm I was talking about well south, probably a DC and Baltimore wintry mess, ill keep an eye for any last-minute changes but I feel this will be supressed well south of the Philly and NYC area
Monday , high pressure will remain in control but the difference is, high pressure will be to our north leading to continued Northerly winds, throughout the winter so far high pressure has been dominant to our SE , bringing up SW winds and warmth. So Monday highs will be in the upper 30s to low 40s and lows 23-30
Similar temps and conditions on Tuesday with highs 40-45 and lows 23-30, a weak cold front will come through and reinforce cold but dry conditions for Wednesday and Thursday.
We are finally going into a colder pattern, and it will actually feel like winter around here for more than a day or 2 here and there thanks to this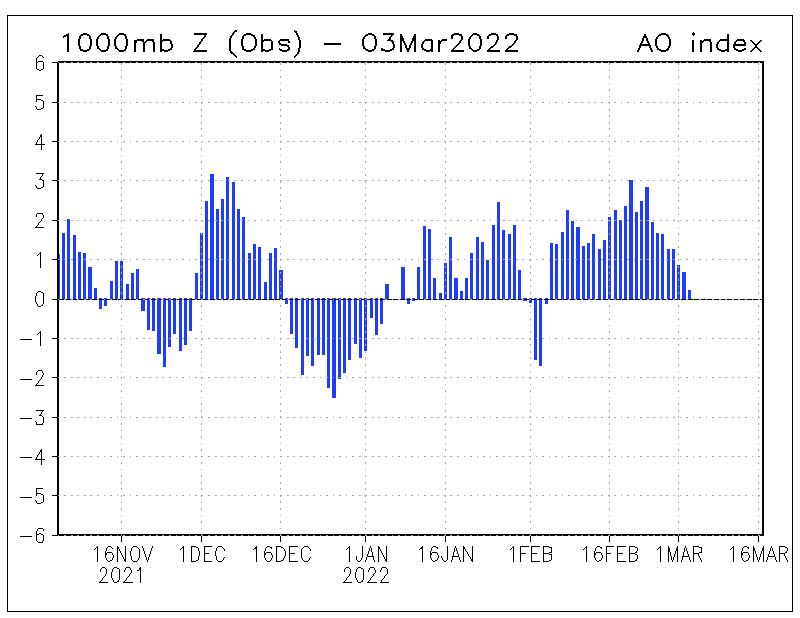 These are the observations, and the AO is now deeply negative, its been very positive and the polar vortex has been well north but now is shifting E and S
And here is the forecast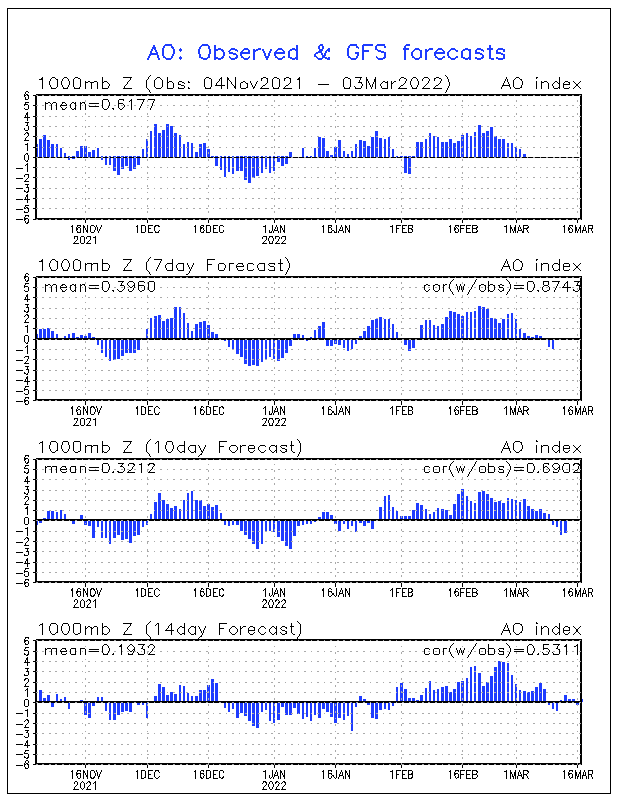 It is forecast to remain negative for at least the next 14 days, a pattern like this supports seasonal cold but nothing Arctic but that may not last too long
Here is the Antarctic oscillation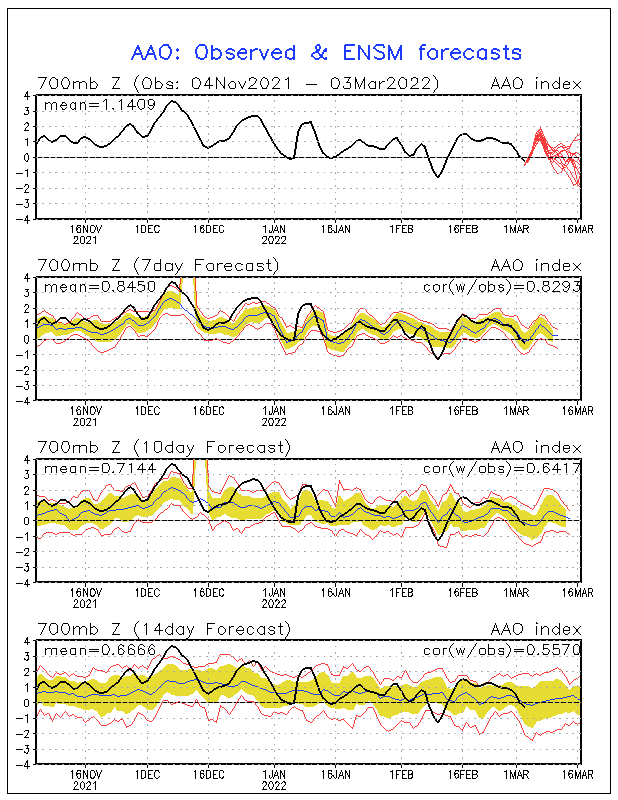 As you can see it is forecast to go negative and that in turn will probably bring a very cold 2nd half to February. So far its been dominant positive but of you look back, every time it dropped even a bit, that's when cold arctic air came in (only 1 or 2 times this winter) and back in October it dropped and look what happened, SNOWTOBER. Add this with a -AO and it COULD get very cold here for the end of winter if everything goes right
The forecast for the next 2 weeks is for a ridge in the west to send down cold air from Canada, and if the AAO goes negative, well some Arctic air may be in the equation
Our next storm threat wont be till Friday at least but the teleconnections look great as of now, ill be watching this storm as it may be the best set up all winer so far. Until then though plenty of sun and seasonal conditions are expected!!