Long Range Discussion
Well to me it looks like the groundhog was wrong and we have an early spring on the way, there's an argument that we will turn cold and snowy and all that BS but lets see, we are in mid February now, the sun angle is getting VERY HIGH now, days are getting much longer .
The arguement for cold and snow is the MJO which is in favorable stages FOR NOW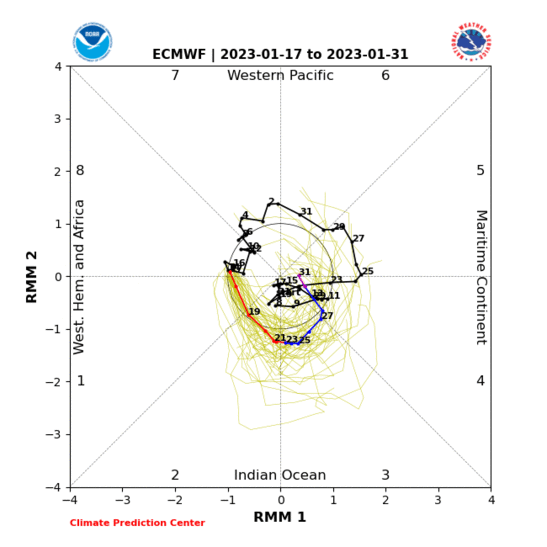 This is the Euros MJO forecast, 7-8-1 are favorable and 2 is okay, 3-4-5 are unfavorable and where we were for most of the winter, we went into phase 7 last week is already in phase 8 and rapidly going through the favorable stages, and despite being in favorable phases we only squeezed out a 1-2 inch snow storm so what does that tell you? And what makes you think if it didn't turn cold and snowy with favorable phases that's its going to turn cold and snowy in non favorable phases?
The reason it didn't get snowy and cold is simple. For one, there is atmospheric lag, it would take 7-10 days just for the MJO to influence our weather, the MJO is only in favorable phases for a week or a bit more and is quickly going to 1-2-3.
And another reason is because the stratosphere is cooling down , and while the AO WAS  negative it was misplaced and looking at todays observations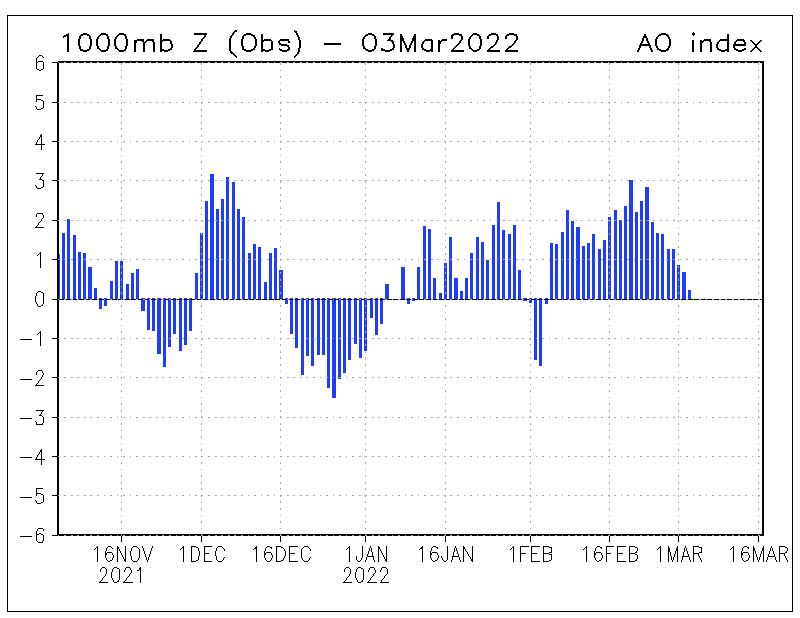 Alas it is positive ONCE again, it was deeply negaitve and yet it remained overall warm besides our recent 2 day cool down again becuase the Polar Vortex was still too far north to influence our weather besides yesterday and the day before when it dropped south but is now on its way back north, and thats obvious because a big warm up is coming and the AO is now nuetral/positive again
NAO forecast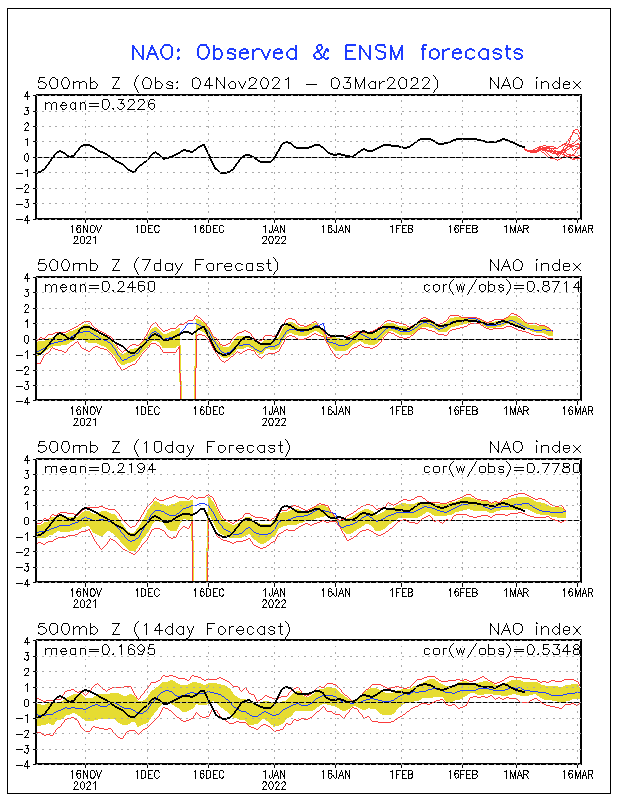 Here is another reason why we did not go cold and snowy, there still NO BLOCK the NAO is neutral and is expected to be neutral / positive for the remainder of the month and has been since Hurricane Irene, hmmm it seems like Hurricane Irene may have ruined our winter? Or maybe its just a coincidence? Who know but it turned positive right after Irene and has been since overall, when it was negative it was too weak to influence our weather.
PNA forecast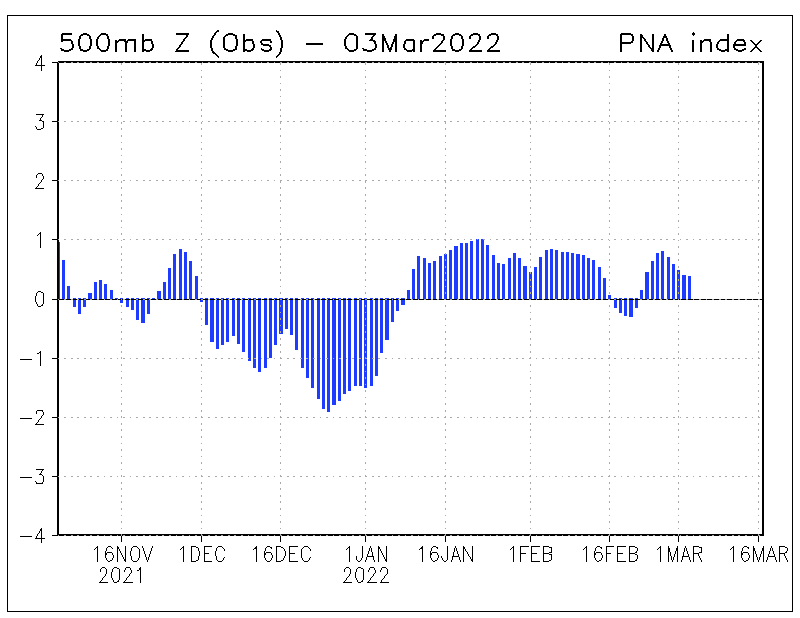 The PNA forecast is good, mainly due to the good MJO which wont last long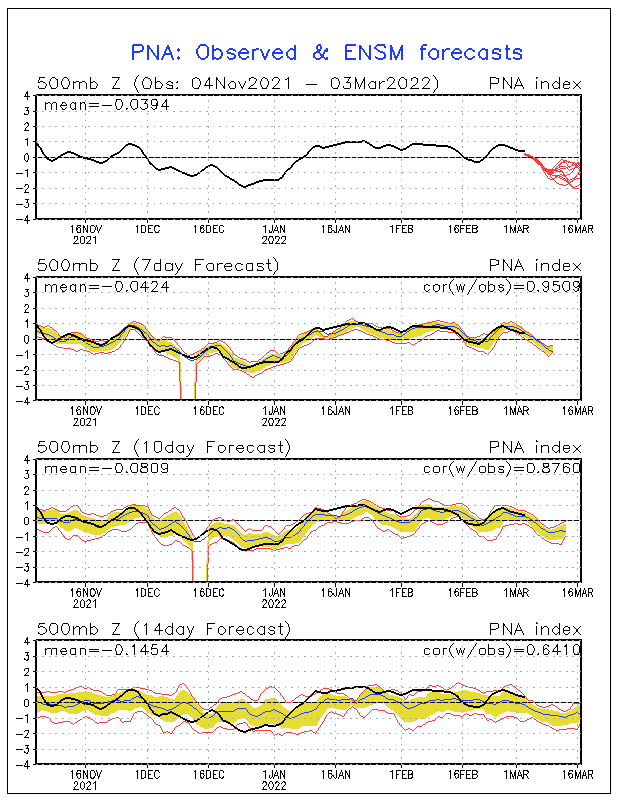 First of all, its falling so while there's a ridge in the west now it wont be for much longer, but lets just pretend it stays positive, there is NO BLOCK so the best we get is a transient cold shot before the ridge builds east because of the progressive pattern.
And the La Nina while weakening , is still existent and west based, and will start to influence our weather, as soon as the mjo goes into unfavorable phases.
Theres a storm threat being hyped up for this weekend, lets look at the maps
The thing that sticks out to me, the ridge in the west is GONZO. There is a slight ridge but its way to small and way to far east. There is clearly a progressive pattern in place, and this is the euro , which is approaching its deadly range, not there yet but close. deadly range is 3-5 days and im sure you can guess what happens in the next frame, it's a fast-moving weak storm that goes WELL south of us.
The big hype is mainly because the GFS is coming north blah blah blah, we will see but I wouldn't count on it, the set up is all wrong, mainly because of no blocking but it's just not that it's all the factors listed above will lead to a progressive pattern.
So with said the rest of February will feature above normal temps, that obvious as we are 7 degrees above normal right now LOL and I expect below average precip as it will be hard to get a significant storm system, I expect little to no more snowfall this winter.
Back to the longer range, there's arguments that its going to get cold here because its cold in Europe and supposedly gets cold and snowy here 10 days later, well its been more than 10 days now, and they are warming up but there's no sign of a cold and snowy pattern coming here
So with all these factors and observations, layed out in front of me it's quite obvious there will likely be no major storms and we will have an early spring, dont let the hype of cold and snow and the storms on the models get you going because most likely it's not going to happen. I cant rule out snow completley but everything has to go absolutely perfect which havent happened yet and there's a lot going against us.