After a major rainstorm has just hit the area with widespread 1-3 inches of rainfall, we are going into a very tranquil and overall mild weather pattern over the next 7 days or so but indications point to it coming to a crashing end next weekend
Saturday will feature clearing skies, dropping humidity and seasonable temperatures, NW winds 10-20 mph  with highs in the upper 50s NE PA to mid 60s along the coast, as colder air comes into te region we will fall into the upper 3os interior to mid 40s along the coast . Sunday will be sunny with highs in the mid 50s to low 60s and lows again in the upper 30s to mid 40s so overall a nice weekend is setting up, a bit on the chilly side especially at night-time
Monday we will begin to Moderate as a trough drops into the western US and a ridge builds into the east, this ridge will remain in control through the weekend. Monday highs will be in the upper 50s NE PA to mid to upper 60s along the coast and lows in the low to mid 40s NE PA to upper 40s low 50s along the coast
Tuesday through Saturday will be pretty uniform with mainly dry conditions, clear skies and mild conditions as the ridge takes hold of the eastern US and warmer air comes in from the southwest. Highs will be in the upper 50s to mid 60s NE PA to mid 60s to low 70s along the coast and lows will be in the low 40s NE PA to low to mid 50s along the coast
Medium/Long Range:
However, w will see changes in the Pacific that look to lead to a cold end to October and early November in the eastern US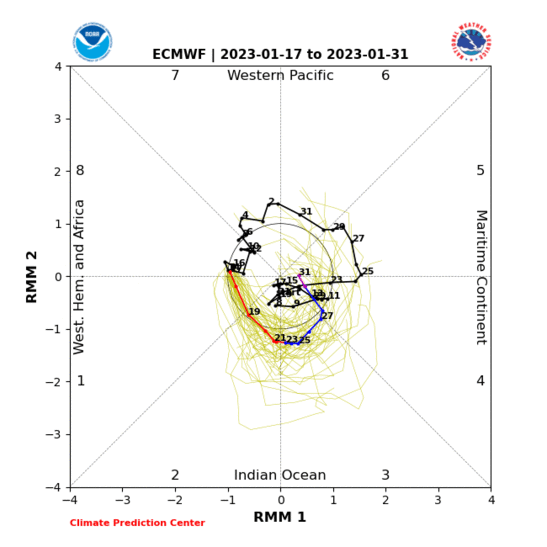 The MJO phase is going into Phase 1 now, phases 7 8 and 1 are typically cold for the eastern US as this means tropical convection develops around the dateline, creating a negative EPO phase and thus a trough in the east, the problem is there is a lag period of 7-10 days so we will see this lag period between the MJO going into Phase 1 and our pattern shift/change in the east but when it happens you will know it! Keep these factors in mind,we will be using them A LOT this coming winter and your going to see this again in the winter forecast !
As the trough in the west shifts east due to the EPO going negative and a ridge building into the west, a strong col front will march east and I expect this front to come through the area between October 27th – October 30th , behind this front will be the first arctic shot of the year! Now arctic shots in late October and early November are different from those in December January February ad March, as there is no snow cover in the US so the air mass will moderate coming east but  still I expect the final days of October going int the first days of November to be COLD , at this time I can't pinpoint exact temperatures but it will be the coldest air mass of the year by far.
So enjoy the next 7 days if you like warmth because we will be heading right back into a cold pattern by the of tis month and it going to come back with a vengeance.
The final winter forecast is being worked on and will be posted publically around November 15th