Tonight im going to go over some long-range thoughts and why I think we will have to wait longer than most people  expect to get into what looks to EVENTUALLY be a cold and stormy winter pattern
Many people , including myself are calling for a cold and active winter, and so far the cold portion of that is unfolding well, as November so far is anywhere from 4-7 degrees below average for the month , however ever since the snowstorm we had November 7 th its been very quiet and tranquil.
We see above plenty of Arctic air is building up over NW Canada but we havent seen a trigger yet to bring this down to the US territory and here is why
We have a strong upper level low in the Gulf of Alaska just sitting and spinning, the circulation around this low is causing a strong pacific jet screaming into the country from west to east and it is bottling up the cold air over NW Canada and it is preventing blocking from developing as well
Now we all know the models are showing a switch in the pattern , this upper level low breaking down and so arctic air is able to come southeast and intrude the United States and they show this happening by mid-week next week, however the overall process I believe will take longer than the models are showing,
Most people are looking at the models and taking them gospel but in reality models are just tools , and one of their biases is to mis handle these switches in between seasons and they like to rush in these pattern changes, looking at the satellite above I do not see this being a quick change
The upper level low in the Gulf of Alaska will weaken slightly this weekend and an arctic cold front will come through the Midwest and Eastern US , leading to a very cold (for this tome of the year) 3 day period between Saturday and Monday
HOWEVER we see a strong disturbance to the west of the Aleutian islands this will swing east bound and lead to redevelopment of the upper low in the Gulf Of Alaska  I believe , and so the pattern will tur once again more zonal and progressive from Monday through much of  next week ,
I expect another cold frontal passage mid to late week  with another arctic shot, and this is where I start to diverge from the model guidance, the models want to make this the big pattern change and make the cold more dominant , and just weaken the Gulf of Alaska low extremely fast and quickly pump up a large ridge in its place, a storm as strong as I expect this to be will not weaken and break down nearly as fast as the model guidance shows .
So for one, this impacts my thoughts n the potential storm next week . Some model runs want to tae this storm up the coast and bring snow to the area, this is assuming that the strong Alaskan vortex breaks down and is replaced by a ridge of high pressure, I believe the vortex will stick around longer than expected , this will help to pump up a bit of a southeast ridge , and thus I expect that a storm track somewhere between the Appalachians and Great Lakes is much more likely than along and up the eastern seaboard.
This storm will bring a cold front through the area and another arctic shot, however I think this will also be just a brief shot , longer than the first one (this weekend) but quickly coming to an end within 3-4 day as again I believe the Alaskan vortex will only SLOWLY break down and thus leading to a slow step down pattern and here is another reason
This MJO forecast is not what we look for when looking for a fast pattern change or even a patter change at all , the MJO represents placement o convection in the tropical pacific , for the best result we want this in phases 7, 8 and 1 meaning convection is prevalent around the dateline,  this would lead to a trough developing around the Aleutian islands and a ridge pumping up and weakening the Alaskan vortex, and that would begin to open the doors for the arctic air to intrude the US however it is stuck in the circle of death and forecasted to come out into phase 2 .
From here , it would likely circle into phase 3 and then back into the "circle of death", this tells me our Alaskan vortex wont be going away anytime soon. We need phases 6, 7 8 or 1 to enter a cold and stormy pattern, simple as that and current forecasts are noteven close to showing it
Here is another reason I just don't see an all out cold pattern locking in, this goes along with my forecast to keep the Alaskan vortex there longer than expected and will be explained further below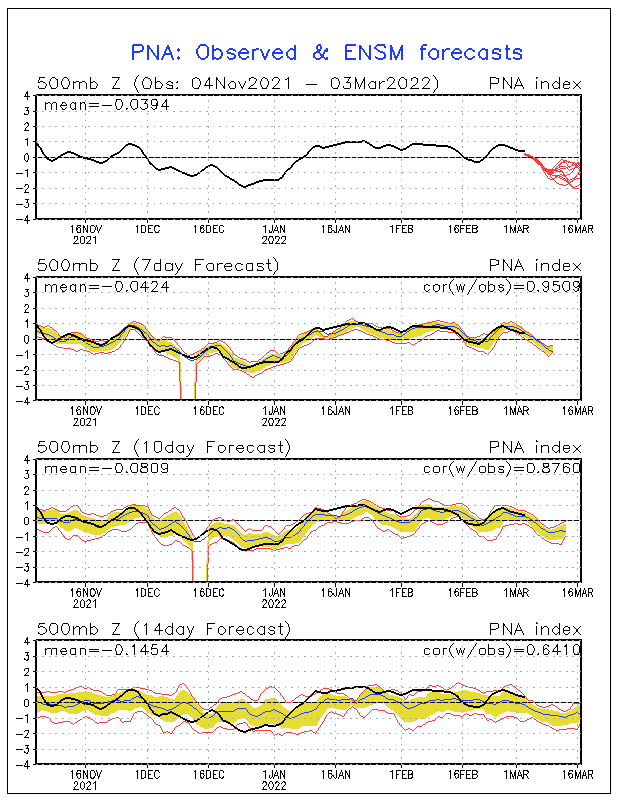 So what do I expect?  Well This vortex is and will continue to lead the PNA to remain stubbornly negative chart posted above) , meaning the pattern will be very flat in the western US  and based on whats in front of me I expect this Alaskan vortex to be a dominant feature through AT LEAST the first week of December in not mid December , now this vortex is not nearly as stong as it was last year and we will have a negative NAO and a neutral to negative AO , with the polar vortex on this side of the north pole ,  so occasional cold polar and modified arctic  shots will be able drop into the US but only be brief  through lets say December 10th-15th . I want to emphasize that these cold shots will mean business and we have to watch for strong cold fronts and storms when these come ,  but will not last all that long.  In between these shots of cold air we will see temperatures at or slightly above normal and dry  in a zonal and progressive pattern which I believe will be more dominant than cold and stormy conditions going into the next 15-20 days .
Baiscally what I am getting at here is that I am AGAINST the forecasts calling for a brutal December in the eastern US , at least through the first half
These are my thoughts on what will happen and why I am going against  switch to cold and stormy pattern in the forseeable future , many are calling for this "change " to occur by the first week of December, I just dont see it right now and so we just have to play it by year and see what happens!!!
I DO think we will switch to a cold and active pattern as the stratospheric data points to an eventual break down of this pattern but again only a SLOW breakdown   and in my opinon as of now it could be as late as late December perhaps even early January before we enter a dominant cold and stormy pattern .