This post will focus on the longer range and the changes that are and have been expected to occur in late December . Things are falling into place for a much colder 4th week of December going into January.
Right now we continue to be in the slow and gradual shift in the weather pattern, for one it is clearly becoming more active.
Over the next 7 days , the dominant storm track will continue to be well west of us, but as colder air begins to intrude into the US , these storms will build up snowpack to our north and west, which is important . So yes we have to deal with another week of rain and mild temperatures but its going to help in the long run.
Stratosphere :
Warm anomalies at the 100 mb level of the stratosphere continue to expand into North America , specifically NW Canada , they also expand into Siberia where the polar vortex is, these warm anomalies will weaken the polar vortex and the storm systems that will impact the area will take a track that will help to slowly pull it south.  It is expected to slowly drop south over the next 7-10 days , and our first true arctic shot looks to come south later this upcoming week
These storm tracks will also help build snow pack to our north and west which means when the cold air comes south it wont be modified too much
MJO
Here is the MJO forecast again in phase 1 then eventually phases 2 & 3
Below are maps showing the impacts of all MJO phases in the December , January and February time frame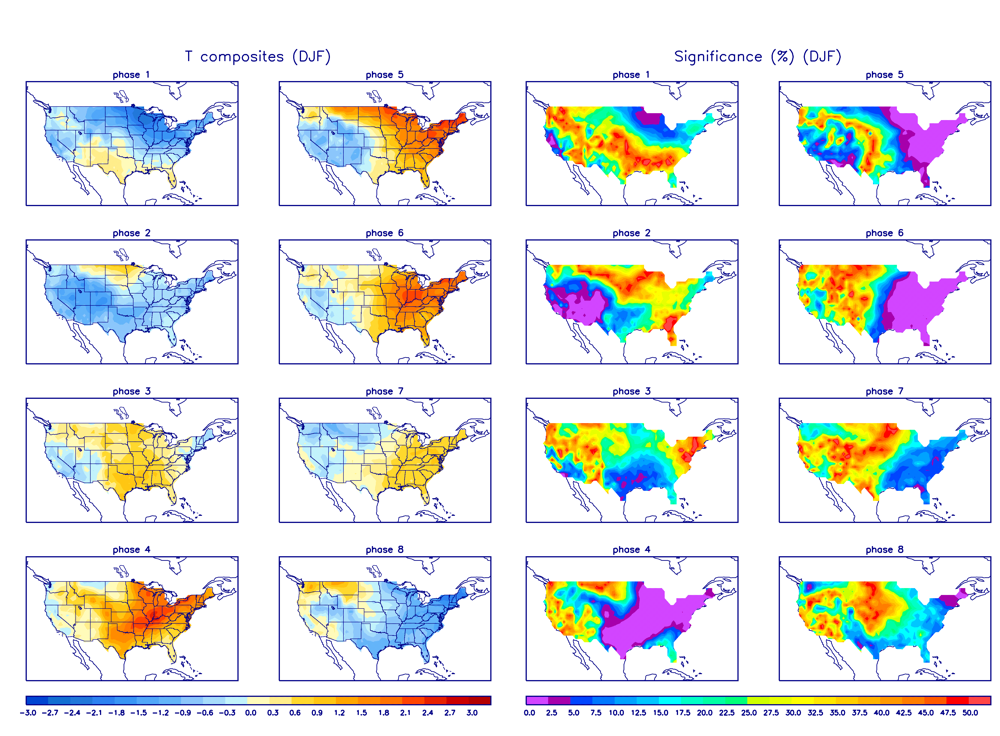 \
We see phases 1-2 and even 3 typically spell a colder pattern this time of year , but again you have to remember the 7 – 10 day lag period , 7-10 days from now you get this (which brings us to next weekend)
The models are portraying what is to expected with a MJO in phases 1-2 and warm anomalies from the stratosphere shifting south, which is cold conditions through much of US
We also have an active sub tropical jet stream, now let me stress that just because a colder  and active pattern is coming, it does not mean its going to snow, as each storm comes along we have to watch interactions and timing of disturbances and so on so forth, just have to take it one storm at a time, but it is becoming clear a much colder pattern is about to take hold.
I know cold and snow lovers are frustrated but in reality , winter starts December 21st and it looks like winter weather will be right on track with the start of winter , also , many analogs used for this year were winters where December was warm but the rest of the winter was cold and active.
Basically what I am getting at here, is that I expect much colder conditions to take hold by next weekend, yes it is finally in sight!