Over the next 10 days a much warmer and tranquil weather pattern will be in place, which is taking over today after a warm front came through last night with some light snow
The last 2 weeks we had a dominant trough in the eastern US with temperatures near to below average levels with plenty of storm systems  , but the pattern is now changing to a much warmer one for the next 10+ days
As a trough comes ashore into the western US the ridge in the western US flattens and comes east , the center of the ridge is currently over the southern plains coming east, this is going to continue east and then stall just off the east coast. A flow out of the south and eventually SW will take over this week leading to moderating temperatures everyday, from mid to upper 40s Monday to mid to upper 50s by Friday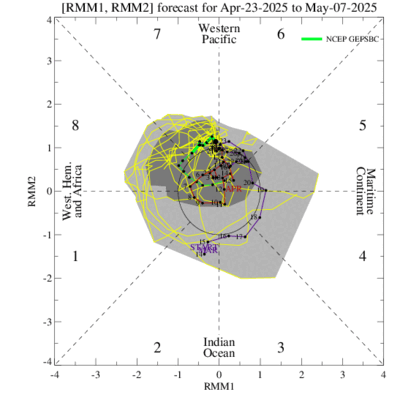 The leading factor to this is the MJO , it is in phase 4 and strongly in phase 4 which will go into phase 5 and then into phase 6 and is forecast to stay in phase 6 through the end of the forecast period. The MJO has been the leading factor this winter which is why I have been focusing on it so much lately , and the topical  convection does not seem to want to settle in a favorable spot for cold and snow lovers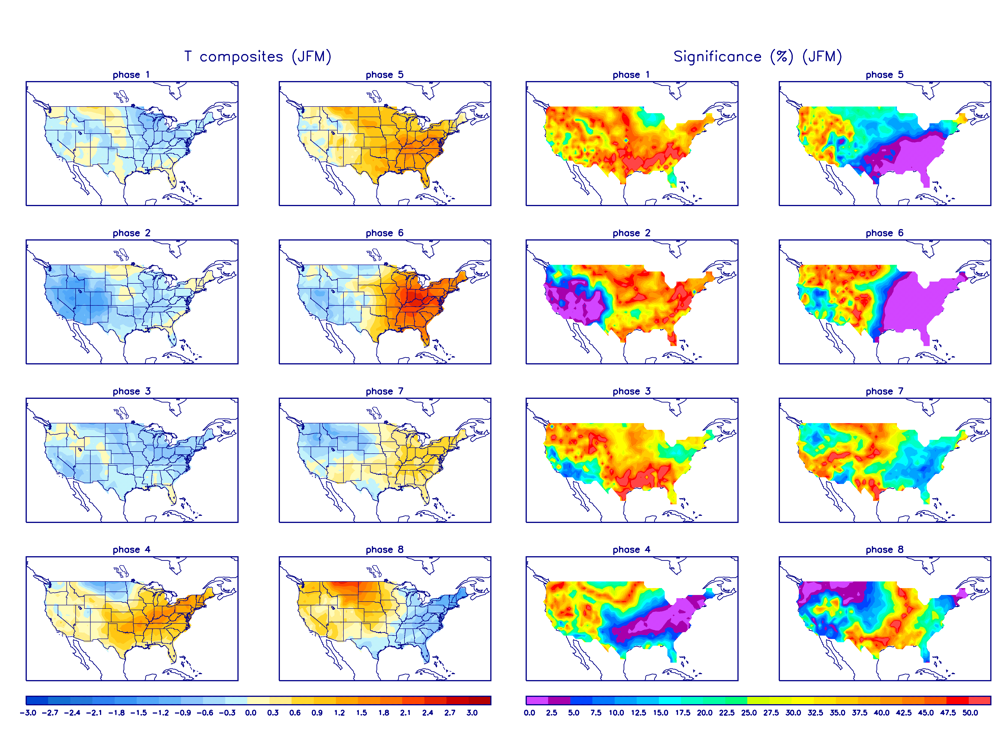 These are the influences of each MJO phase in the January February March period and we see phases 4-5-6 are just incredibly warm for the eastern US as convection placement forces a positive EPO (ridge in the Northeast Pacific) which leads to a trough along the west coast and translates to a ridge in the eastern US with warm and tranquil weather
Theres all this stuff about stratospheric warming and the SWE going on but the reality is , stratospheric warming does not work all the time , that's not to say these teleconnections work 100% of the time but the teleconnections work more so, stratospheric warming is more or less a coin toss . Is it possible the warming event over powers the MJO and east Pacific? Sure it is but it's not highly likely in my opinion.  I want to see the MJO improve and team up with the stratospheric warming event before I jump on the cold and snow train for late January through February and so on so forth
Also, there is colder than normal waters around Florida and off the southeast US coast, which favors a long-lived dreaded SE ridge , its one of the bigger reasons we have seen  it on and off this winter so far , and now that the pattern will really favor it, it's going to really go to town and blow up , to the point where its going to be hard to break it down when/if the stratospheric warming influences high latitude blocking , forces the NAO and AO to go negative, and forces the polar vortex south into north America and southern Canada , this is what is supposedly going to happen , and I believe if it does (I am skeptical of the idea because as I said, stratospheric warming can be a coin flip when it comes to influencing weather) the break down of this SE Ridge will be slow anyway.
January 7th – 20th  weather pattern
So basically here is the pattern I expect to take ver and stay in place through the majority of January , and to be honest I wouldn't be surprised if this really locked in through the remainder of winter but I m not ready to that far just yet
A large ridge in the east Pacific , which leads to a deep trough in the western US , that allows a SE ridge (which is already there) to intensify and expand north, influencing the eastern US with a SW flow, warm conditions and pretty tranquil weather besides a storm that goes into the Great Lakes here and there, cold air comes in briefly behind but the SE ridge forces the real cold to head north before coming east into our area.
Basically our winter comes down to stratospheric warming, if it is able to influence the NAO , AO and Polar vortex then we will return to a colder and stormy pattern for late January into February, if it does not, I am almost ready to say the remainder of this winter is a lost cause for snow lovers in the east (yes my winter forecast is in grave danger again ) , so its a big factor we have to watch over the next 15 days or so , until then enjoy the warmth!