With extreme uncertainty with the Friday snow threat that seems to be decreasing rapidly with each passing model run (this is why you don't go around making snow accumulation forecasts 4 days in advance, but instead only introduce the potential and possibilities) ,  I figured I would focus on the long-range weather pattern over the next few weeks tonight going through the middle of February. Lets just say this week wont be the last time we see brutal cold through the end of winter in my opinion based on latest data
The MJO is again one of the leading factors to this weather pattern
We see the MJO is in phase 7 and headed towards phase 8 , the stratospheric warming event is helping this as the polar vortex is split and forced south bringing polar air way south into the tropical equatorial pacific which is allowing convection to develop around the dateline this also argues for long lived convection around the dateline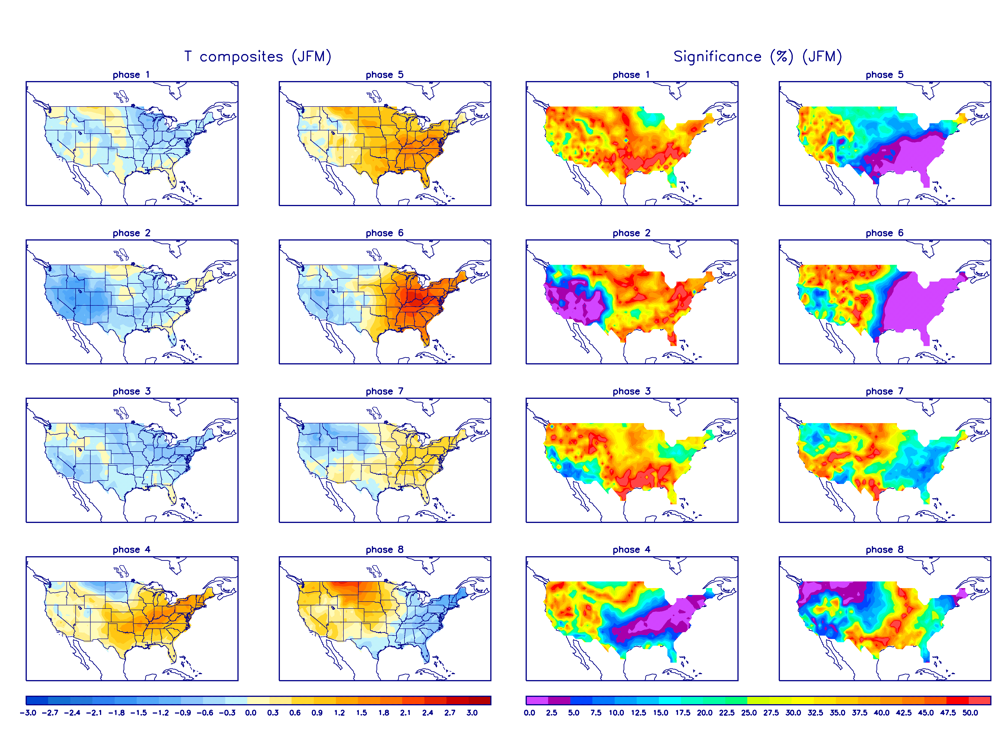 We see phase 8 of the MJO is very cold for the eastern US and argues for a ridge in the west trough in the east alignment , this graphic  shows 7 being warm but in this case it is clearly inaccurate with a deeply negative Arctic Oscillation
So through Sunday this arctic air will remain in the area, the coldest will be tonight through Thursday night with highs in the area struggling in the low teens interior to low 20s along the coast and lows in the low 0s interior to low teens along the coast
Friday will moderate ever so slightly with what ever storm system we get with highs in the mid to upper teens interior to mid 20s along the coast , widespread snow showers and light snow seem like a goo possibility still but the threat for any significant snow is dropping fast as there is very little model support, still something to watch and I wouldn't be surprised to see a widespread 1-3 or 2-4 type event with high ratio snow , ill keep you posted over the next 2 days but im thinking it wont be a big deal.
Anyway behind this system another very cold shot will impact the area Saturday with again highs struggling in the teens to low 20s and lows in the 0s to mid teens
We will see a reload in the pattern early to mid-week next week , which is very typical with a pretty significant warm up Monday – Wednesday or Thursday , but again this will be a reload not the end of the cold pattern
This pattern reload will occur as the next shot of arctic air spills into the western US , this will pump up a ridge over the east , we will most likely have a storm track into the Great Lakes region, ahead of this storm will be a few days in the 40s and maybe 50s but behind it will be the return of very cold conditions after a cold front with a potential rainstorm.
The MJO will be heading into phase 8 around this time, and with a 7-10 lag period that would argue for the pattern reload and then the cold to return by the end of next week
We see a very strong cold front coming through by mid-week next week , I actually would not be surprised to see this relaxation last longer than modeled, with the continuation of a -PDO it would argue for the brief SE ridge to be a bit more stubborn and linger a bit longer than expected , so im leaning for towards the Friday-Sunday period for the cold air to return
We see the same pattern as we got now returns with a broad trough across much of the country, and the coldest being confined east of the Mississippi river as the MJO in phase 8 leads to a trough around the Aleutians, which in turn trys to pump up transient ridges in the western US
When it comes to snow, phase 8 would argue for a active pattern with an active sub tropical jet stream as well but each storm system will have to be watched for timing, interaction, phasing etc , it's nearly impossible to say if we will get snow out of this pattern, for snow lovers this would be the best pattern we have seen this winter but that doesnt guarantee anything,   I am pretty confident the cold will remain a dominant feature over the next several weeks though .