Since there is not much going on weather wise, I figured I would touch on the longer range today with a look at how the remainder of the spring and summer will potentially shape up.
I think it is safe to say this spring has set up to be nothing like the previous 3 springs, cold and snow have been holding strong over the Northern Plains, meanwhile temperatures have dominantly been at or below normal from the northern Plains to the Northeastern US , opposed to well above normal warmth experienced in the springs of 2010-2011 and 2012 , which is probably making things feel colder than they really are as people have gotten used to early springs and early summer warmth.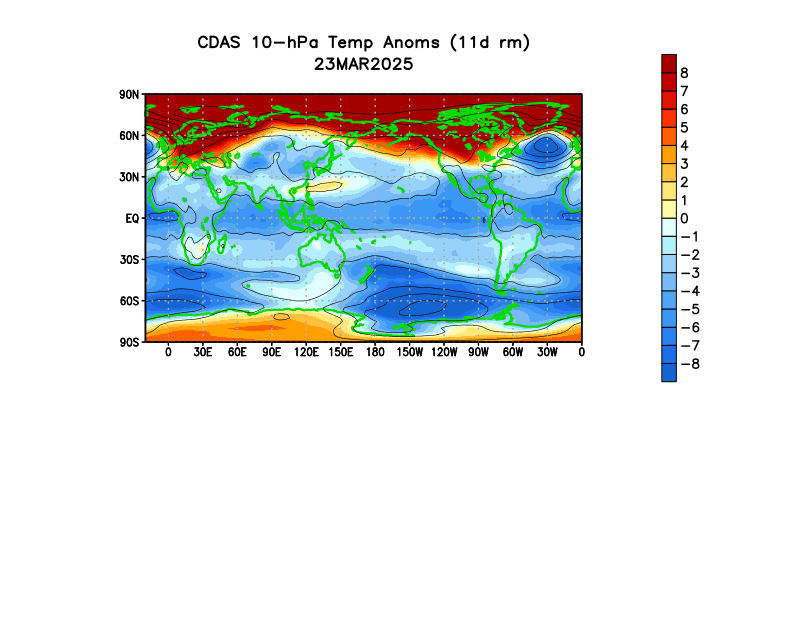 Looking at the stratosphere we can see clearly why this spring is shaping up to be the way it is , and nothing like the last 3 years, in the previous years we had very cold stratospheric anomalies over much of the US and specifically the Central and Eastern US , cold stratospheric anomalies cause the troposphere to contrast which heats up the surface , and so usually where there are cold anomalies is where there is ridging in the troposphere.
The cold anomalies that were seen combined with La Nina and a negative PDO phase (colder than normal waters in the Gulf of Alaska which enhances trough development along the west coast) we saw powerful heat ridges develop each year starting in late March/early April and lasting all summer long before slowly breaking down when autumn hit.
In 2010 the heat ridge developed and centered itself over the southeast and eastern US , which lead to an incredibly hot summer , even record hottest for many with just heat wave after heat wave, constant 90s and some 100 + degree days thrown in the mix
In 2011 and 2012 when the coldest stratospheric anomalies were focused over the Mississippi river Valley that is where the heat ridge developed and lingered , it did expand to the Northeastern US frequently in 2011 and somewhat less frequently in 2012 , which lead to several heat waves, lots of days in the 90s and 100s but not quite as hot as 2010 because the heat ridge remained to our south and west for the most part , in 2011 it set shop slightly farther east which lead to more in the way of heat than in 2012.
This year however we see warm stratospheric anomalies over the Northeast through the Northern Plains , warm anomalies enhance the chances of  troughs or dips in the jet stream which introduces polar air masses from the northwest and that's exactly what we have been seeing , warm anomalies also enhance High latitude blocking which we have seen lots of lately
If you look at the animation above you can see the pool of warm anomalies are pretty stubborn to move and is basically stuck over the same areas, with the coolest anomalies over the west and southwestern US , which are still near normal.
With all this being said what we do have to work with this spring and eventually summer is a neutral ENSO phase, a very weak negative PDO phase , stubborn warm stratospheric anomalies and a MJO that is very inactive
What this tells me is that the remainder of this spring will feature a weakening trough in the Gulf of Alaska (if you look above colder anomalies in the stratosphere are building over the Gulf of Alaska) down and along the immediate west coast, a ridge building over the Rockies and the Plains , which I believe is where this summers heat ridge and thus the center of the heat will be located instead of the central and eastern US , we look to have a stubborn negative NAO to block this pattern up as well , this will lead to much of the western US and occasionally the Plains baking under the heat ridge , although given the above factors (no La Nina, and a weak negative PDO phase) it should be much weaker than we have seen in the past couple years.
For the Northeastern US ,  a dominant zonal/trough flow , an occasional but brief spell of heat from a building heat ridge to our west and an occasional cold front with spells of below average temperatures ,  overall from what I see, is a spring and summer that will end near to  below normal temperature wise and this type of pattern would probably lead to near normal precipitation  , basically in short from what I am seeing now I wouldn't expect the constant 90s and 100 degree temperatures and constant above normal warmth  from previous springs/ summers , if you want those you probably want to head way west of here.
In the coming weeks I will be able to get a better handle on the summer and see where we go with stratospheric anomalies etc , these are just some preliminary thoughts.