We can see on the current radar that a wet and potentially stormy afternoon and evening is setting up for the forecast area
Theres an area of low pressure developing over the Tennessee river Valley along a stationary front, and there's a weak cold front to our north that is stalled out , as the low comes east-northeast and the cold front to our north slowly drops south into a warmer , more unstable air mass, showers and thunderstorms are expected to rapidly develop this afternoon, we can already see this occurring over eastern PA
Below is a short-range model that tries to depict what the next 6-12 hours will bring, this image is for the late afternoon/early evening hours
The most widespread activity is expected between 2 pm and 8 pm tonight as all the factors above come together along with daytime heating at its peak , there is the threat for isolated severe thunderstorms with the biggest threats being damaging wind, this is not expected to be widespread but the threat is there as there is just enough instability building this morning with some sunshine.
One thing that is certain is that with a very humid air mass in place,  very heavy downpours will be a widespread threat with embedded thunderstorms  , which could lead to some flooding issues.
This system will exit tonight, and give way to a prolonged tranquil period from Wednesday through this weekend , between Wednesday and Saturday we will see comfortable temperatures that are near to below normal with upper 60s to low 70s NE PA, mid to upper 70s elsewhere with a few low 80s in urban areas , lows in the upper 40s NE PA , to 50s elsewhere ,and we will begin to see true summer like conditions starting this weekend as a ridge of high pressure that is baking the  Plains is expected to slide east, giving the northeast a chance at a period of hot/humid weather conditions.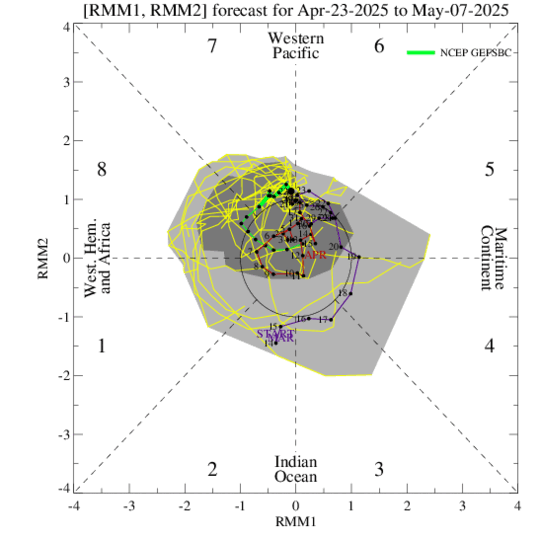 Given some factors like the MJO I don't see this being too  prolonged, typically phase 6/7  and tropical convection more towards the Indian ocean this time of year translate to a ridge building over the eastern US , which looks to happen but once we get to phases 8-2 things typically get cooler for the east as convection over the Western Pacific creates such a pattern where a trough develops in the eastern US and thus cooler temps and more active weather , so basically what I expect is a period of hot/humid and pretty dry conditions, (although on Sunday night/Monday when a warm front approaches there could be some storms) through much of next week before things turn cooler and active around the 7-10 day time period.