While the low/nor'easter is still several hundred miles to our south, some parts of the Jersey shore and Delaware coastlines are already experiencing minor coastal flooding issues due to strong easterly flow ahead of the storm Belmar NJ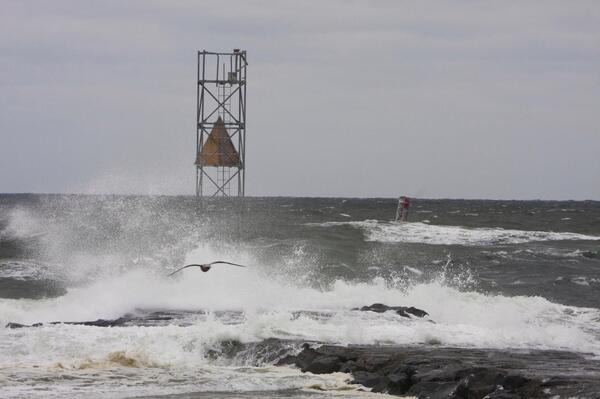 Lacey NJ
  Little Egg Harbor NJ
The easterly flow is just beginning and  only expected to increase, and several episodes of minor coastal flooding in the Central NJ coastline and Moderate coastal flooding along the southern NJ coast  can be expected over the next few days
Several inches of rain coming to these areas will only aggravate the flooding too
Delaware:
Sussex County warns of flooding from coastal storm
Residents in low-lying, flood-prone communities should take
appropriate steps to prepare
FOR IMMEDIATE 1730 Hours, Wednesday
RELEASE Oct. 9, 2013
A developing coastal storm threatens to lash Sussex County over the next several days,
flooding low-lying areas, particularly in coastal portions of the county, and making
some roads impassable to residents.
A storm system moving up the East Coast, fueled in part by the remnants of Tropical
Storm Karen, is expected to interact with high pressure to the north and then stall,
sending waves, wind and rain ashore through at least Friday. Wind-driven high tides,
however, could last well into the weekend, causing flooding and potentially cutting off
access to some low-lying areas
.
Forecasters expect the storm's most significant effects to be minor to moderate
flooding, beach erosion, 30 mph to 40 mph winds, and up to 4 inches of rain.
While no evacuations have been ordered, residents in communities along the Delaware
Bay, including Prime Hook and Broadkill Beach, as well as around the Inland Bays,
particularly Angola and Oak Orchard, should be mindful of the forecasts and prepare
to move to higher ground, if necessary. Strong easterly and northeasterly winds over
the next 48 to 72 hours will push water ashore and into these flood-prone areas.
Emergency officials urge the public to be prepared and to monitor local forecasts for
any changes or updates. Residents in low-lying areas should act now by moving
vehicles, clearing storm drains, and checking submersible pumps.
For updates, stay tuned to local media outlets, the Sussex County EOC Web site,
http://www.sussexcountyde.gov/services/storm
, and be sure to follow the County's
Facebook and Twitter feeds,
http://www.facebook.com/SussexCountyDE,
http://www.twitter.com/sussex_pio     and http://www.twitter.com/SussexCtyDE_EOC.