This post will focus more so on the longer range as we head throughout the rest of May and a peek into the potential pattern setting up as we head towards summer
This spring so far has been over generally on the cool side , with on and off stormy periods, some brief warm ups and really overall a pretty typical northeastern US spring (again a bit on the cool side and definitely wet ) , it seems worse than it is because the last several years we had such a bad winter, and the last several years (besides last year) have featured early springs and generally unseasonably mild spring seasons ,  March was well below average temperature wise and the first full month of spring,  April was below average but only by 0.5 degree south and west portions (Philadelphia points southwest)  to around 2 degrees below average to the northeast (NYC area points northeast), precipitation for March was near to slightly above average, it would have been well below average for a lot  of the area (especially northern portions where dry air and cold air masses which kept most of the storms and snow threats over SE PA and southern NJ, those areas had solidly above average precipitation)  but we had a big storm come through late in the month that dumped 3-5 inches of rain which helped us catch up big time, April was well above normal in the precipitation department, with a fairly similar set up, most of the month was drier than usual but a big storm the last few days of the month that bought 3 to as much as 6+ inches of rain sky rocketed precipitation to well above normal levels. But overall the spring has not been all that bad because while precipitation is well above average, it came mostly in 2 distinct storms rather than spread out in a bunch of miserable rainy days ,  of course this is coming from someone who loves cool, stormy weather so im sure many of you have much different opinions!
As we head over the next 10 days or so as I stated in the previous blog we will see more in the way of periods of warm and even humid weather which will satisfy many of you as a lot of the area will catch up on missed 70+ degree days although it will be volatile at the same time with stormy conditions.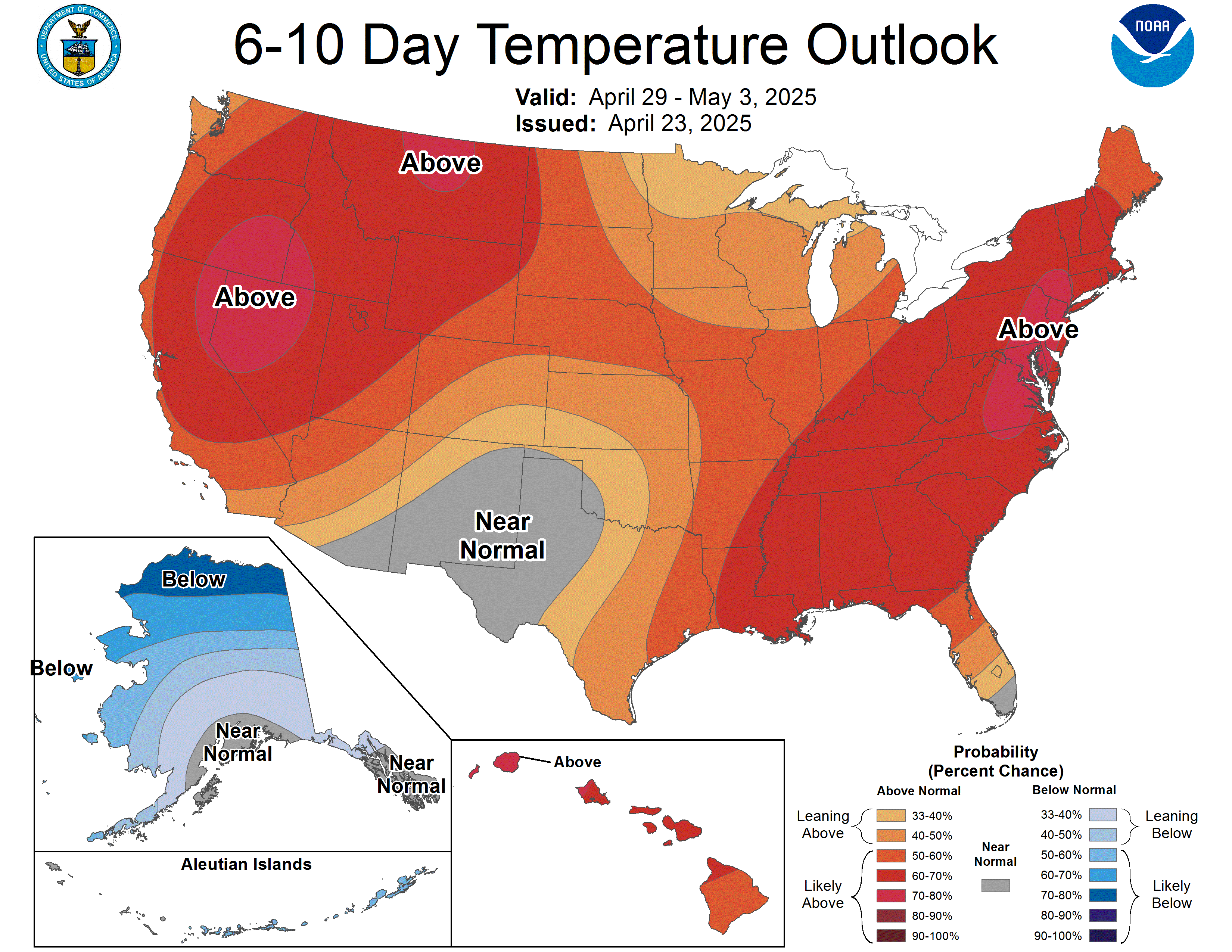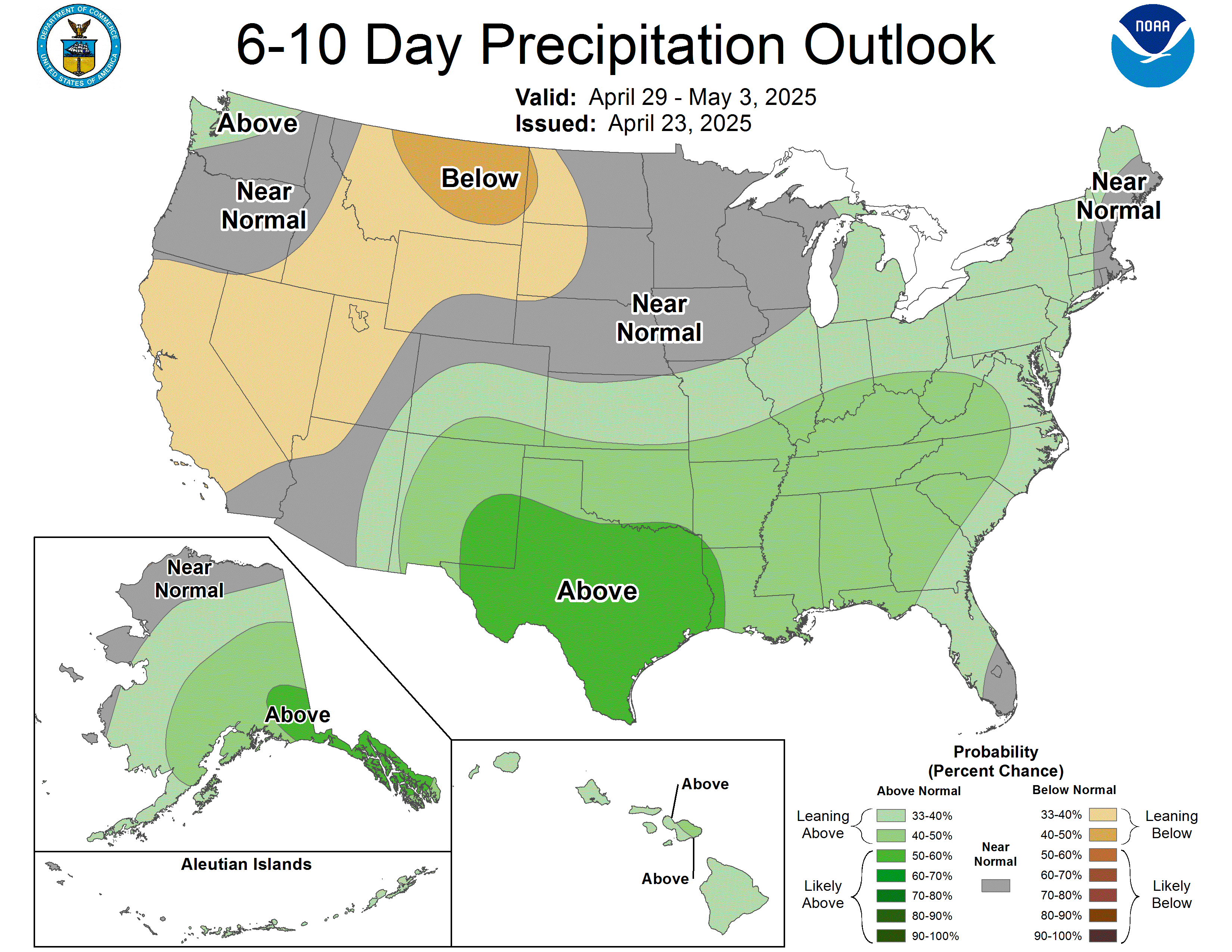 As we can see as stated in the previous blog a bit of a battle zone will set up over the forecast area, but it does appear the above average warmth will win out in the 10 day period, this battle will bring above average precipitation too
I believe this pattern with a defined southeastern ridge will be short-lived though, as I believe this is more of a relaxation in the pattern rather than a pattern change , the only change really coming is in terms of temperature anyway
We can see a nice trough is developing near the Aleutians, this has been the theme since December which has been  one of the primary reasons for our cool and stormy pattern since then , this trough will shift eastward slowly over the next 10 days into the west and eventually Central US which is what will help enhance the southeast ridging a bit, which is what will be responsible for bringing a mean of above average warmth starting later this week and lasting into next week.
However as im sure many of you know we have a developing El Nino, which is above average sea surface temperatures in the equatorial Pacific, and the way the warmest SSTs are setting up, it will allow the MJO to generally stay in the Phase 1 territory which is indicative of a -EPO pattern ( the trough around the Aleutians, and thus the downstream pattern of a trough over the Midwest and Eastern US) so while the EPO will briefly break down it is likely to rebuild quickly as we head towards mid May.
The slow-moving cold fronts we will see over the next 10 days will be gradually breaking down the developing weather pattern of a ridge building over the Southeast and Central US , trying to build into the Northeast as well, and the secondary cold front that will suppress the ridging back to the south and west towards the Southeast and South Central US looks to come around the 10 day period with the rebuilding of the -EPO and rejuvenation of the dominant Pacific pattern, between a + PDO developing and a El Nino developing there isn't much hope for any prolonged heat or above average warmth over the Northern Mid Atlantic and northeast going through May and probably as we head at least into early summer . This trough will shift our dominant flow from Southwest over the next 10 days (thus the warmth and humidity) to more of a northwesterly flow with more in the way of Canadian air masses
One thing that likely wont change too much is the stormy pattern , with a very active sub tropical jet stream (result of the developing El Nino) and an active and  amped Polar jet stream, there should be plenty of storm systems to track, but I do believe the trough that sets up over the Central /Western US will shift east between days 8-14 , (albeit slowly) , by mid May ( say between the 15th-20th, I expect a trough to become dominant once again over the Midwest, Ohio Valley extending into the Northeast. With this being said the way the pattern is developing I do not expect a complete break down of the Southeast ridge which will keep a battle zone going with slow-moving frontal boundaries and stormy conditions continuing.
Above is day 10 and after a warm, volatile period of weather between days 5-10 we can see a nice ridge redeveloping in the east Pacific and western US , and a trough once again becoming a dominant feature in our weather , the above average Atlantic SSTs also may allow for a negative NAO to become more of a dominant feature which is why while the warm stormy pattern will be somewhat slow to move out, once the trough comes back east it will be forced to lock into place. The bulk of the trough is likely to set up over the Great Lakes which will allow for on and off Canadian air masses to intrude when it swing east but will also keep us on the eastern side of the trough a lot with a lot of storm threats, this is the pattern I expect to lock in for the second half of May and going into June.
So in summary, after the next couple days a period of overall above normal warmth will take over , more likely Philadelphia points southwest, while NYC points northeast should be slightly above normal at least, the temperatures may be more volatile here with Marine influence etc., so while Philly may actually average a good amount above average over the next 10 days, NYC area points northeast may only average a bit above normal.
Then after the 15th of May, starting next weekend after a couple of slow-moving cold fronts come through I expect a pattern changing or pattern shifting cold front to come through , with  a temperature scheme to average slightly below average for the area,  with near to slightly below average temperatures to the southwest (closer to the Southeast riding)  to perhaps fairly solidly below average as you head north and east (farther away from Southeast riding, closer to the Marine influence)  for the second half of the month as the southeast ridging gets shunted south and west , the stormy conditions will likely remain as the southeast ridge will still try to fight back occasionally and battle with occasional Canadian air mass intruding from the northwest and occasionally more of a Marine air mass trying to invade from the northeast due to a developing -NAO and back door cold fronts etc.)  , but with the southeast ridge still in play and the fact that we are heading towards summer , there  will naturally be some warm spells ahead of cold fronts but overall those will be brief and  I expect the 2nd half of May compared to averages to be much cooler than the first half of the month will end, stormy and wet conditions will likely remain in place, and the general theme of cool and wet looks to continue for the most part.
As we head towards June I don't really see much to argue for any real big changes in the pattern that would allow any sustained above average warmth or heat waves to enter the Northeast US , sure we will see some of these relaxation periods and periods of warmth and humidity, just naturally because it will be heading into summer,  but there's nothing to argue for and any big drivers to suggest  a dominant pattern change to bring dominant ridging, prolonged warmth/heat and dry weather to the east, so I very well expect the same general them to last into June as well.
As for the bulk of summer I will have a more detailed forecast out sometime in the next 2 weeks as the factors for the summer forecast are starting to fall into place, I want to study what happens over the next 10 days or so before coming up with an official summer forecast, the date it will be issued is still TBD but probably sometime between May 15th-20th, it's a bit later than most summer forecasts but id rather be accurate then be too early! The forecast will contain a month to month analysis and all the drivers of the weather pattern, much like the other seasonal outlooks that have been published on this site (:
I hope you enjoyed reading this blog as much as I enjoyed typing it up with my extreme love for nature and weather !