Todays long-range analysis will cover the remainder of this spring and parts of the summer with a deep preview of the coming  summer forecast
The ENSO and El Nino
Waters continue to slowly warm out in the equatorial Pacific and El Nino is clearly on track to become well established by the summer months , with above normal waters persisting over the North Pacific and Gulf of Alaska there isn't anything to inhibit the development from continuing , over the past several years, El Niño  has failed to develop even when modeled to do so due to a persistent – PDO and a pool of colder than normal to well below normal waters over the Northeast Pacific and Gulf of Alaska , so every time a El Niño tried to develop those waters would come down the west coast and inhibit development, but now with a +PDO in place we should continue to see slow and steady development, as of now it looks to be central based or basin wide with no one sector much warmer than the others
MJO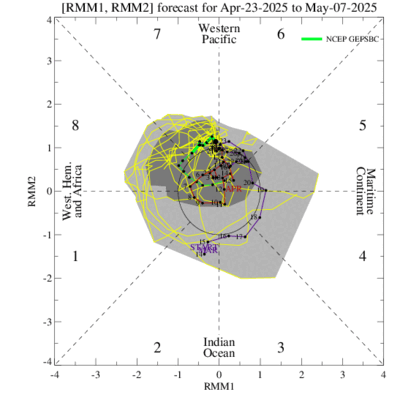 With El Nino developing and waters temperatures above normal the MJO as we can see is basically stuck around phases 8-1-2 , which basically means much of the tropical convection is confined to the equatorial Pacific , the MJO in these phases in indicative of an active sub tropical jet stream which we saw begin to develop during the winter and now we have seen it all spring, which we can correlate with the well above normal precipitation amounts so far the spring, (and another rainy week and big soaking rain maker is on the way this week to add onto those)
The ENSO states (El Nino and La Nina) and SSTs in the Equatorial Pacific  are typically the main driver of the MJO, the MJO influences the weather pattern , and the MJO in these phases typically leads to a dominant trough around the Aleutian Islands , downstream leads to ridging over the eastern Pacific and west coast and then a trough in the central and or eastern US , this time is no exception as all of that has been the dominant weather pattern this spring and signs point to it continuing as we head into the summer months
NAO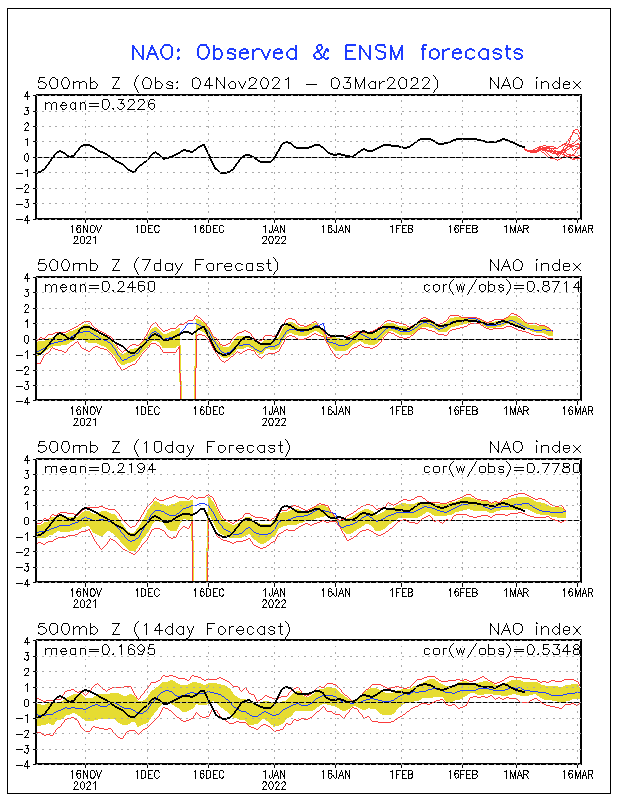 One thing we didn't see this winter that is changing now is the development of a -NAO , these – NAO block help to lock in weather patterns and help to slow down storm systems, the NAO during the winter usually leads to enhanced troughing , that's not necessarily the case as we head into late spring and summer, this time of the year it acts to lock in a pattern that is usually driven by the Pacific so during the previous several summers when we saw a cold PDO and more in the way of La Nina a -NAO helped to lock in heat ridges over the eastern US , during El Ninos it will more than likely help to lock in more in the way of troughiness and storminess, the NAO should dominantly remain neutral to negative with above average SSTs to the south of Greenland and typically El Nino leads to a favorable pattern for -NAO down stream
Above are the Atlantic SSTs, we can see on the northern extent of the map above average SSTs to the south of Greenland, and a very expansive area of above average SSTs just off the east coast, this is the reason the bulk of these troughs and below average temperatures have been more over the Great Lakes than the Northeast, these warm waters lead to ridging over the western Atlantic which leads to southwesterly flow up or just off the coast , this is why our temperatures have been somewhat volatile and another reason why its been so stormy , again there is nothing to suggest this will change and this will likely continue as we head into summer , this ridging tends to slow down cold fronts as they come east and lead to increased moisture transport from both the Atlantic and the Gulf of Mexico , this western Atlantic ridge is setting up just in the right spot for dominantly above average temperatures and high humidity to stay to the south but close enough to lead to bouts of warmth and humidity and increase stormy conditions over the east , so basically our area is in a big battle zone or at least shaping up to be (as we can see over the past 5 days with a summer preview which will now give way to average to slightly below for much of the coming week )
Tropics
I usually don't try to do long range tropical outlooks, but I figured this would go nicely with the Atlantic SST map posted above.
With  El Nino , typically hurricane seasons are quiet, however with such warm SSTs so close to the east coast, tropical development could be a bit more enhanced during usual El Nino years along the east coast, of course if this does happen each storm will have to be tracked and timing situations of cold fronts etc will have to be taken into effect but I could see at least a chance of a east coast impacting tropical system given the pattern , it would likely be more "home grown" meaning a storm develops along a cold front or doesn't develop until its close in assuming one can make it close in so any east coast tropical systems would likely be on the weaker side, and also Gulf of Mexico waters are below normal, that combined with a strong Sub tropical jet and lots of shear across the tropics along with below average SSTs in the tropical Atlantic  will likely lead to a overall quiet season, but the threat for East Coast impact would appear to be a decent possibility in this set up, and probably the highest threat area this summer, but with El Niño's also come a lot of cold fronts and active pattern so these home grown systems could also be swept out to sea easily, which is why I don't like doing long range tropical out looks because its one of those things where you have to take it storm by storm and as we saw last season while a very active season to even record breaking season was predicted by many, it turned out to be one of the quietest seasons on record, so just because the overall factors are against an active tropical season doesn't necessarily mean we cant have one, its just that the driving factors for a active season appear to be missing, however if any area of the US should have their "eyes on the tropics" it should especially be the east coast.
PNA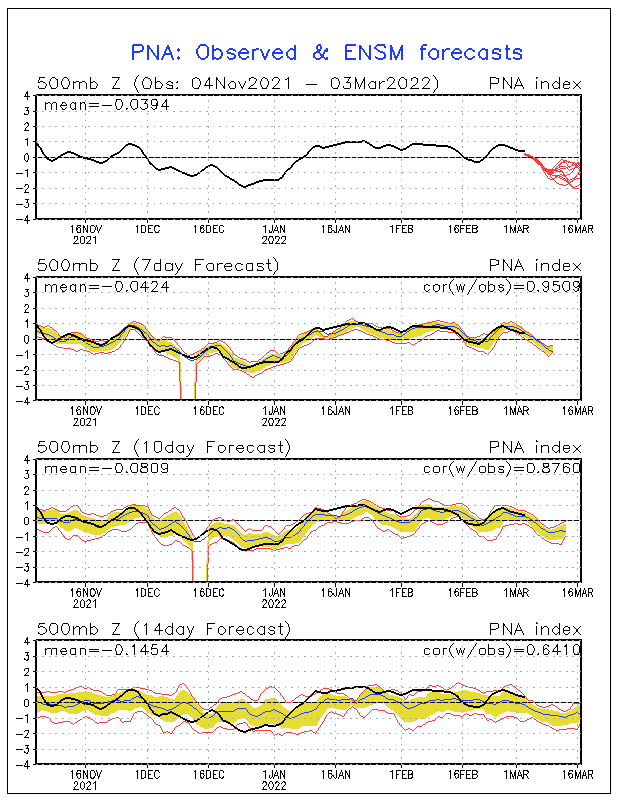 The PNA measures heights over the east Pacific, which is driven by the MJO , ENSO states and PDO states, with the MJO in phase 8-1-2 , a developing El Nino and a +PDO phase, it is all inductive of above normal heights (aka ridging) over the east Pacific and into the western US  we can see with no surprise that the PNA is expected to remain neutral to mostly positive.
So basically in summary, the pattern I expect to through the remainder of spring and going into summer will be a dominant ridge in the western US , leading to a dominant trough downstream over the Great Lakes and perhaps portions of the Plain states, and for our forecast area a very stormy and somewhat volatile pattern in terms of temperatures with a battle zone between the troughs over the Great Lakes, leading to spells of below average temperatures, a negative NAO sending back door cold fronts with spells of Marine air (below average temperatures but also somewhat humid) and the western Atlantic ridge bringing in spells of above normal temperatures and high humidity, with overall temperatures averaging slightly below normal and well above normal rainfall , the temperatures will be the most volatile as we can see the warm humid tropical air masses invade the southwest portions of the area while areas like NNJ, NYC points NE could remain in the Marine influences for much longer due to the -NAO , so southwest areas like Philadelphia/SE PA/SNJ through Washington DC and perhaps out to Central PA could average near normal temperatures to even above slightly while areas like NNJ, NYC, CT could see shorter duration warm ups and longer durations of below average temperatures which would lead to the area overall averaging slightly below normal temperatures but a very volatile temperature scheme is possible this summer if the pattern continues to develop like I think it will , in this type of set up though a very rainy, stormy pattern is basically a lock and could lead to a lot of nasty thunderstorms by the time we get to summer and also a set up that can bring a lot of training heavy rain events / thunderstorms.
Just a side note, the official and final summer forecast will be coming soon and this will be the general structure of it , hoping to have it out and will have it out by May 23rd 2014 , still not sure of the exact date but im shooting for the official date to be Friday May 23rd , just want to study the developing pattern a bit more to confirm my beliefs (: and meteorological summer starts June 1st!