I'm publishing a new page on the site which will feature longer range weather forecasts and thoughts (middle to long-range anyway) , the other posts will continue to be short-term forecasts but I am going to start including more in the way of long-range outlooks as well. On this page I will either delete previous Long range outlooks and replace them with updated ones or post the newer ones above the older ones.  I hope you enjoy this new feature to Northeastern NJ WX Authority!
Please give your feedback about the website!
Long Range Analysis October 13th 2014
The October forecast as of mid month is going good so far with temperatures right around normal for most of the area, and pretty stormy conditions which will be enhanced this week by a strong, slow moving storm system, this storm system will bring very warm air with it and so temperatures will trend above normal for the month by the time we end this week but this warmth looks to be balanced out by next week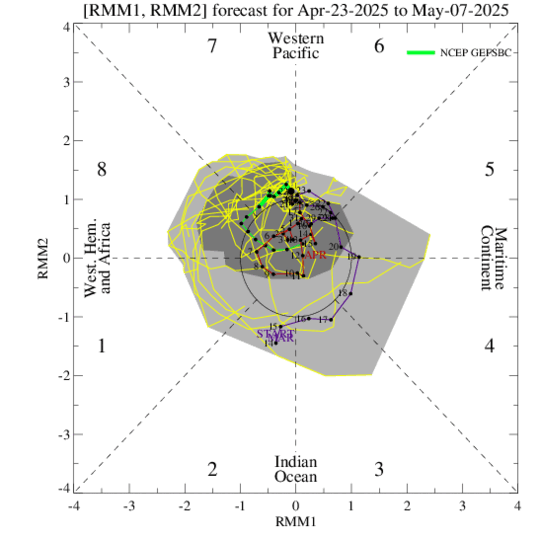 The MJO has been a big driver so far this fall and we are retuning to the usually cold and active phases for the eastern US, phases 8-1, this should help to bring in chilly weather by next week once this storm passes as these phases typically bring a nice trough into the eastern US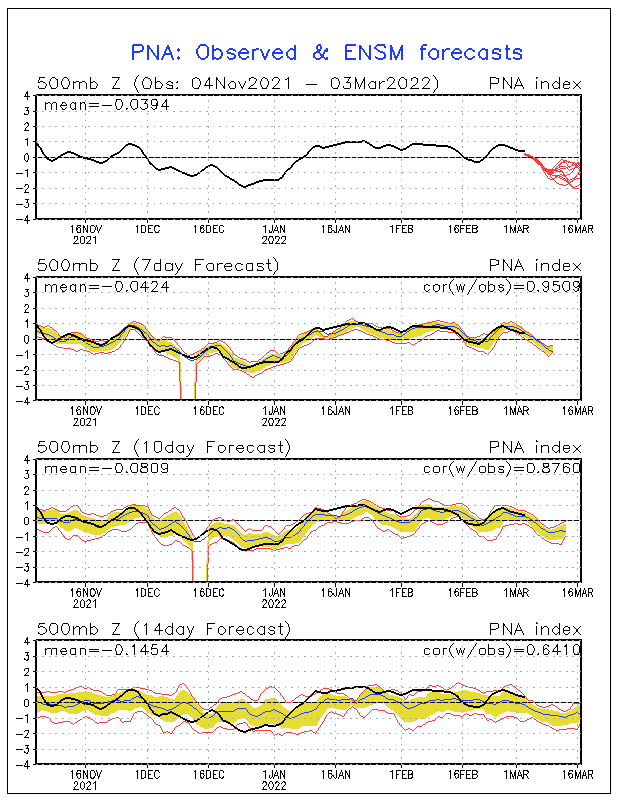 We also have a ridge that will be rebuilding out west after this storm passes by, which enhances the chances of a cooler than normal and stormy end to October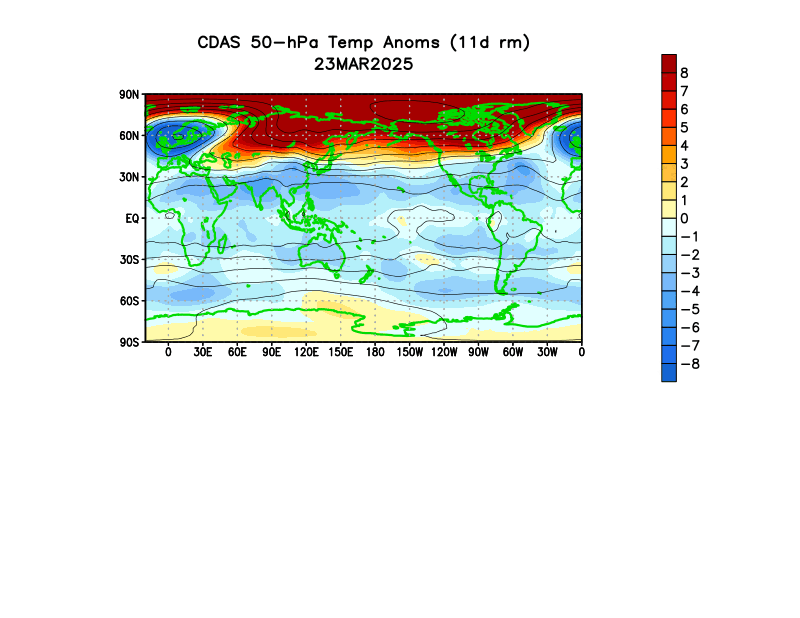 Also on top of this we have a nice stratospheric warming event occurring over north America, this will typically influence the weather patter in about 7-10 days or so which is just about when the MJO change should influence the weather pattern , and everything is lining up to make the final 7-10 days of October very chilly and potentially stormy, and we should balance out by months end to right around normal temperatures and precipitation that will range from near normal to above normal levels
I believe the factors are lining up to also make things cold and stormy as we head into November
The Pacific waters are very warm which typically lead to a enhancement of the MJO influences and these warm seaq surface temperatures I believe will help make the 2nd half of fall and potentially the winter very interesting.
Long Range Analysis September 27th 2014 -Looking Into October
Another pattern relaxation is taking hold similar to what we saw earlier in September which will bring near to above normal temperatures over the next 5-8 days , with this it looks like the fall forecast I issued for September temperature wise should work out with the month likely ending 1-3 degrees above normal , however signals are pointing to things turning cooler than normal and stormy as we head into early October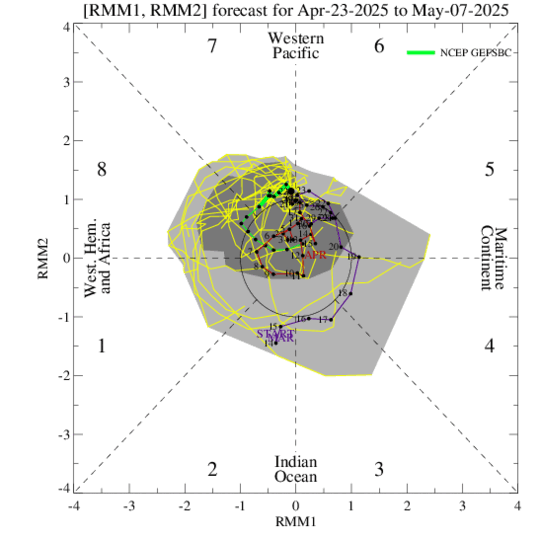 Earlier in the month we were in phases 3–4 and neutral which are warm phases , then we went into phases 8-1 which bough much cooler conditions for the majority of the month so far but now it has gone back neutral and we have passed the 7 day lag, and a warm pattern is returning, however as we head into phase 7 , El nino slowly gets strong and the PDO remains positive , a much cooler pattern will quickly return by the 3-5th of October.
For now a trough is near the west coast in response to the changes in the Pacific but as a trough returns to the Aleutians next week the algnment will change back to the way its dominantly been since last winter/
We can see the pattern this weekend into early in the week the flow is from WSW responsible for transporting the warmth in
By next weekend a complete turn around comes along with strong polar air masses returning to the eastern US, I believe October will be quite similar to September, a warm start ( although not nearly as above normal as September) then dominantly below average through the bulk of the month , I do think October will bring a return to a relatively wet pattern too after a pretty dry pattern over the past 60 days,  as the sub tropical jet ramps up and we start getting more intense thermal gradients with these strong cold fronts , I also believe coastal storms will be a constant theme through the month with these thermal gradients of strong polar air masses coming in from the northwest and warm tropical air to the east.
October summary:
Slightly below normal temperatures
Near to slightly above normal precipitation
The going forecast for October from the Autumn forecast:
Long Range Analysis September 10th 2014
I haven't posted one of these in a while so my apologies , todays long range analysis will go through what we can expect for the remainder of September, and going into October weather wise.
Our summer was interesting to say the least, where New York City and many areas failed to even get one heat wave (3 or more days consecutive of 90 degrees or higher). We made up for some lost summer heat during the first week of September, where labor day weekend and Independence day weekend seemed to swap weather conditions, we had plenty of storminess the first half of the summer but a drastic downswing in storminess in August and now in September with just scattered events where some areas get pounded and some areas are getting very dry (SNJ and southern areas have been getting pounded while areas of NNJ , NE PA and NYC are becoming dry). Despite there being no official heat waves for most of the are (besides Newark NJ where 2 minimal official heat waves occurred) the summer was only about 0.5-2 degrees below normal for most of the area, and some areas especially in NE PA were above normal by as much as 1-2 degrees but it was mostly a pretty normal summer with temperatures in most areas generally in the +1 – -1 F range with precipitation slightly below average in northern areas, to above normal in south and western areas
Now the summery weather is coming to a rapid end and autumn has began to take over a little early this year and all the signs and signals are showing a autumn pattern locking in this weekend and lasting through the foreseeable future. A cold front will drive through tomorrow associated with a strong storm system that will bring a trough into the eastern US , and with changes in the Pacific this pattern will lock in
As we jump into the medium range, about 5 days out, next Monday we see a broad trough is expected to overtake the Midwest and northeast as a very amped up pattern takes hold, with a trough near the Aluetians, a large ridge building over the western US and thus a north to northwest flow over the east with polar air masses dominating the scene
As we go to 9-10 days out the same pattern is in place with no changes in sight, as reinforcing cold fronts keep the trough locked in over the east , we can thank the MJO going back into phases 8-1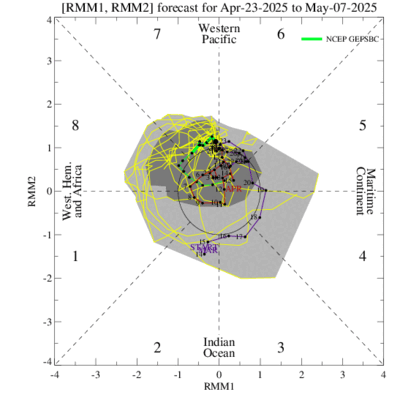 These phases help lock in a trough around the Aleutians and everything falls into place downstream from there and aligns to bring troughiness and a cool and potentially unsettled weather to the eastern US , the MJO us expected to lock into these phases which means more than likely below average temperatures and stormy periods will be the story for the remainder of September possibly into early October, I do think there will be a pattern relaxation sometime between early and mid October, this means that a brief but steady spell of above normal temperatures is possible as the overall pattern takes time to reload,  but for the most part the dominant fall pattern is beginning to establish itself right in front of our eyes
September started off on such a warm note that even with below normal temperatures likely dominating the rest of the month, that the month will still likely end 1-3 degrees above normal but for the most part my forecast for a warm September overall does not look like it will pan out too well
Long Range Analysis June 17th 2014
As we are in the midst of the first true hot spell of the summer season I'm sure the heat lovers are in thier glory wondering how long it will last while the heat haters are begging for it to be over already, I'm going to touch up on the summer forecast and explain what to expect in the coming days and weeks
Right now we are in a pattern where there's a split flow in the western US and a fairly impressive heat ridge centered over the Southeast US , don't get used to this though it will be very short lived. We see a trough over the northwest Atlantic which has been there all spring and is a piece of breaking this pattern down
Our El Niño continues to gradually develop and with the PDO being positive this heat spell is more of a relaxation of the weather pattern more so than a pattern change
Over the next few days a ridge will build back over the Eastern Pacific and Western US, A dominant dip in the jet stream will develop over the Great Lakes and Northeast in response to this combined with that persistent trough over the Northwest Atlantic.
The pattern break down will start Thursday with a backdoor cold front coming from the trough over the NW Atlantic, this will beat down the heat ridge over the SE
This type of pattern will also bring in frequent trains of disturbances with frequent storm chances
Meanwhile the changes in the Pacific will lead to more of a northwesterly flow , and with the El Niño continuing to develop along with warm PDO phases this will become the dominant weather pattern in the coming weeks
Also  with the El Niño comes a active sub tropical jet which will lead to a lot of disturbances and low pressure systems passing over or nearby the area with frequent rain and storm chances.
Between the trough in the jet stream over the Great Lakes and northeast and the persistent trough over the NW Atlantic sending down back door cold fronts, the summer forecast for slightly below to below average temperatures and above average precipitation appears to be on track so far as this will bring much cooler air in and this type of pattern will keep and heat short lived in 1-3 day periods.
Long Range Outlook Issued May 12th 2013
Todays long-range analysis will cover the remainder of this spring and parts of the summer with a deep preview of the coming  summer forecast
The ENSO and El Nino
Waters continue to slowly warm out in the equatorial Pacific and El Nino is clearly on track to become well established by the summer months , with above normal waters persisting over the North Pacific and Gulf of Alaska there isn't anything to inhibit the development from continuing , over the past several years, El Niño  has failed to develop even when modeled to do so due to a persistent – PDO and a pool of colder than normal to well below normal waters over the Northeast Pacific and Gulf of Alaska , so every time a El Niño tried to develop those waters would come down the west coast and inhibit development, but now with a +PDO in place we should continue to see slow and steady development, as of now it looks to be central based or basin wide with no one sector much warmer than the others
MJO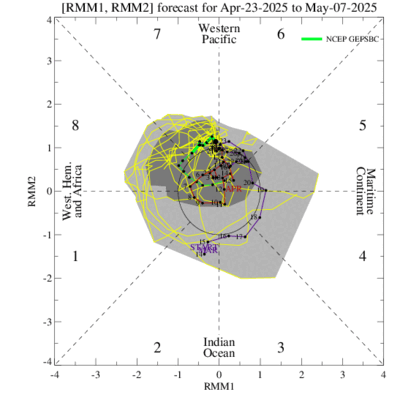 With El Nino developing and waters temperatures above normal the MJO as we can see is basically stuck around phases 8-1-2 , which basically means much of the tropical convection is confined to the equatorial Pacific , the MJO in these phases in indicative of an active sub tropical jet stream which we saw begin to develop during the winter and now we have seen it all spring, which we can correlate with the well above normal precipitation amounts so far the spring, (and another rainy week and big soaking rain maker is on the way this week to add onto those)
The ENSO states (El Nino and La Nina) and SSTs in the Equatorial Pacific  are typically the main driver of the MJO, the MJO influences the weather pattern , and the MJO in these phases typically leads to a dominant trough around the Aleutian Islands , downstream leads to ridging over the eastern Pacific and west coast and then a trough in the central and or eastern US , this time is no exception as all of that has been the dominant weather pattern this spring and signs point to it continuing as we head into the summer months
NAO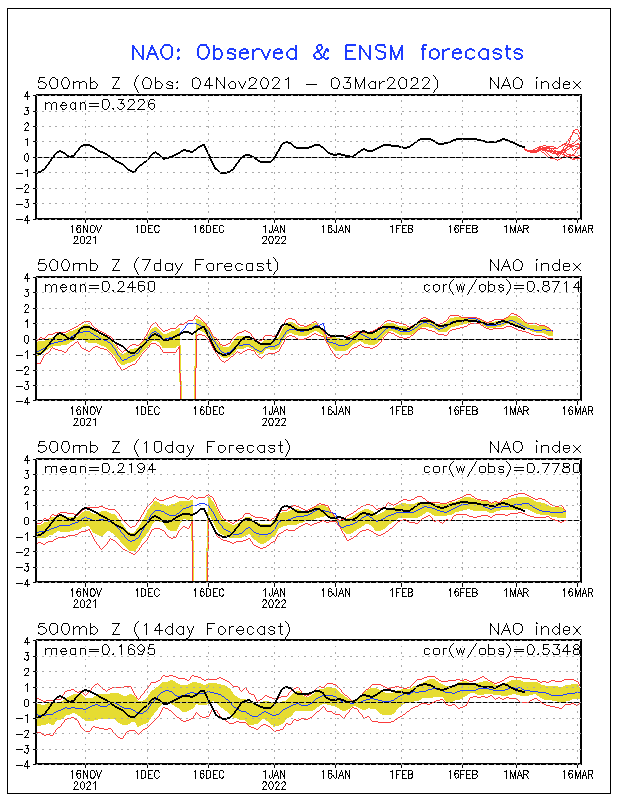 One thing we didn't see this winter that is changing now is the development of a -NAO , these – NAO block help to lock in weather patterns and help to slow down storm systems, the NAO during the winter usually leads to enhanced troughing , that's not necessarily the case as we head into late spring and summer, this time of the year it acts to lock in a pattern that is usually driven by the Pacific so during the previous several summers when we saw a cold PDO and more in the way of La Nina a -NAO helped to lock in heat ridges over the eastern US , during El Ninos it will more than likely help to lock in more in the way of troughiness and storminess, the NAO should dominantly remain neutral to negative with above average SSTs to the south of Greenland and typically El Nino leads to a favorable pattern for -NAO down stream
Above are the Atlantic SSTs, we can see on the northern extent of the map above average SSTs to the south of Greenland, and a very expansive area of above average SSTs just off the east coast, this is the reason the bulk of these troughs and below average temperatures have been more over the Great Lakes than the Northeast, these warm waters lead to ridging over the western Atlantic which leads to southwesterly flow up or just off the coast , this is why our temperatures have been somewhat volatile and another reason why its been so stormy , again there is nothing to suggest this will change and this will likely continue as we head into summer , this ridging tends to slow down cold fronts as they come east and lead to increased moisture transport from both the Atlantic and the Gulf of Mexico , this western Atlantic ridge is setting up just in the right spot for dominantly above average temperatures and high humidity to stay to the south but close enough to lead to bouts of warmth and humidity and increase stormy conditions over the east , so basically our area is in a big battle zone or at least shaping up to be (as we can see over the past 5 days with a summer preview which will now give way to average to slightly below for much of the coming week )
I usually don't try to do long range tropical outlooks,  but with El Nino , typically hurricane seasons are quiet, however with such warm SSTs so close to the east coast, tropical development could be a bit more enhanced during usual El Nino years along the east coast, of course if this does happen each storm will have to be tracked and timing situations of cold fronts etc will have to be taken into effect but I could see at least a chance of a east coast impacting tropical system given the pattern , it would likely be more "home grown" meaning a storm develops along a cold front or doesn't develop until its close in assuming one can make it close in so any east coast tropical systems would likely be on the weaker side, and also Gulf of Mexico waters are below normal, that combined with a strong Sub tropical jet and lots of shear across the tropics along with below avg SSTs in the tropical Atlantic  will likely lead to a overall quiet season, but the threat for East Coast impact would appear to be a decent possibility in this set up, and probably the highest threat area this summer, but with El Niño's also come a lot of cold fronts and active pattern so these home grown systems could also be swept out to sea easily, which is why I don't like doing long range tropical out looks because its one of those things where you have to take it storm by storm and as we saw last season while a very active season was predicted by many it turned out to be one of the quietest seasons on record, so just because the overall factors are against a active tropical season doesn't necessarily mean we cant have one its just that the driving factors for a active season appear to be missing, however if any one area in the US should keep an "eye on the tropics" it should be the east coast.
PNA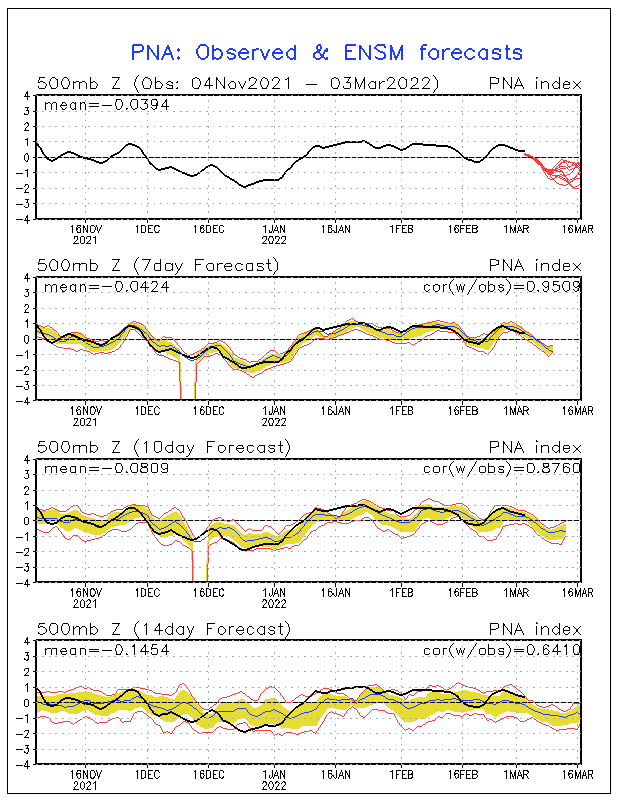 The PNA measures heights over the east Pacific, which is driven by the MJO , ENSO states and PDO states, with the MJO in phase 8-1-2 , a developing El Nino and a +PDO phase, it is all inductive of above normal heights (aka ridging) over the east Pacific and into the western US  we can see with no surprise that the PNA is expected to remain neutral to mostly positive.
So basically in summary, the pattern I expect to through the remainder of spring and going into summer will be a dominant ridge in the western US , leading to a dominant trough downstream over the Great Lakes and perhaps portions of the Plain states, and for our forecast area a very stormy and somewhat volatile pattern in terms of temperatures with a battle zone between the troughs over the Great Lakes, leading to spells of below average temperatures, a negative NAO sending back door cold fronts with spells of Marine air (below average temperatures but also somewhat humid) and the western Atlantic ridge bringing in spells of above normal temperatures and high humidity, with overall temperatures averaging slightly below normal and well above normal rainfall , the temperatures will be the most volatile as we can see the warm humid tropical air masses invade the southwest portions of the area while areas like NNJ, NYC points NE could remain in the Marine influences for much longer due to the -NAO , so southwest areas like Philadelphia/SE PA/SNJ through Washington DC and perhaps out to Central PA could average near normal temperatures to even above slightly while areas like NNJ, NYC, CT could see shorter duration warm ups and longer durations of below average temperatures which would lead to the area overall averaging slightly below normal temperatures but a very volatile temperature scheme is possible this summer if the pattern continues to develop like I think it will , in this type of set up though a very rainy, stormy pattern is basically a lock and could lead to a lot of nasty thunderstorms by the time we get to summer and also a set up that can bring a lot of training heavy rain events / thunderstorms.
Just a side note, the official and final summer forecast will be coming soon and this will be the general structure of it , hoping to have it out and will have it out by May 23rd 2014 , still not sure of the exact date but im shooting for the official date to be Friday May 23rd , just want to study the developing pattern a bit more to confirm my beliefs (: and meteorological summer starts June 1st!
Long Range Outlook May 7th 2014
On Monday I did a very long and detailed write-up on the break in the overall weather pattern that is starting now and will last over approximately the next 7-10 days , as a ridge slowly builds over the east, a prolonged period of above normal warmth, something we haven't seen in a while will be starting to crank up by Friday and last through at least next Friday. Overall the ideas from Monday have not changed at all, I just wanted to do a follow-up post.
As stated in todays short and medium range post, stormy and gradually warming conditions will be the theme of the next 7-9 days details found here :  https://northeasternnjwx.wordpress.com/2014/05/07/prolonged-unsettled-pattern-begins-tonight/
It's beyond that 7-10 day range that I will be touching up on again.
The storm threat and strong cold front for later next week is expected to bring a return of the dominant upper level pattern we have seen since November, as the Pacific pattern reloads. We have a developing El Nino and a +PDO pattern developing in such a way that overall speaking the eastern ridging will be brief, it will last 1 weeks time because of a developing block over the North Atlantic but once the trough comes that block will lock the trough in for a while as well
Here is 6-10 day outlook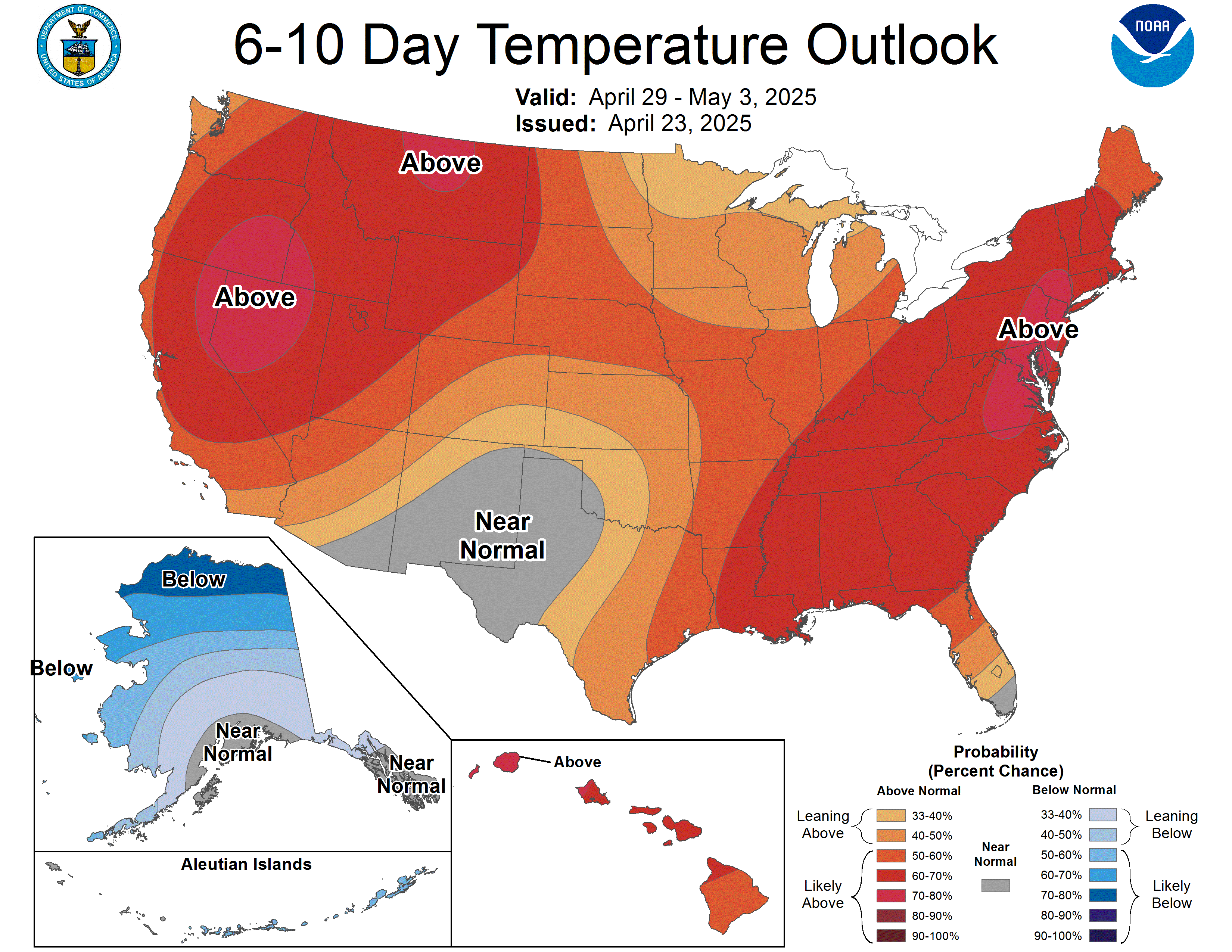 Over the next 5 days the above normal warmth will be much more expansive than this map shows because it covers 6 days and beyond , the storm threat and cold front I addressed in the earlier post is what is responsible for pushing the above average warmth to the south and west, which is again a result of the Pacific pattern, the Southeast ridge is building in response to a reloading phase but once the reloading phase is complete (over the next 7 day) we can see how ridging rebuilds in the east Pacific and western US in response to the Pacific pattern.
Above average warmth persists over the area because that cold front didn't quite come through yet but we can see its not far behind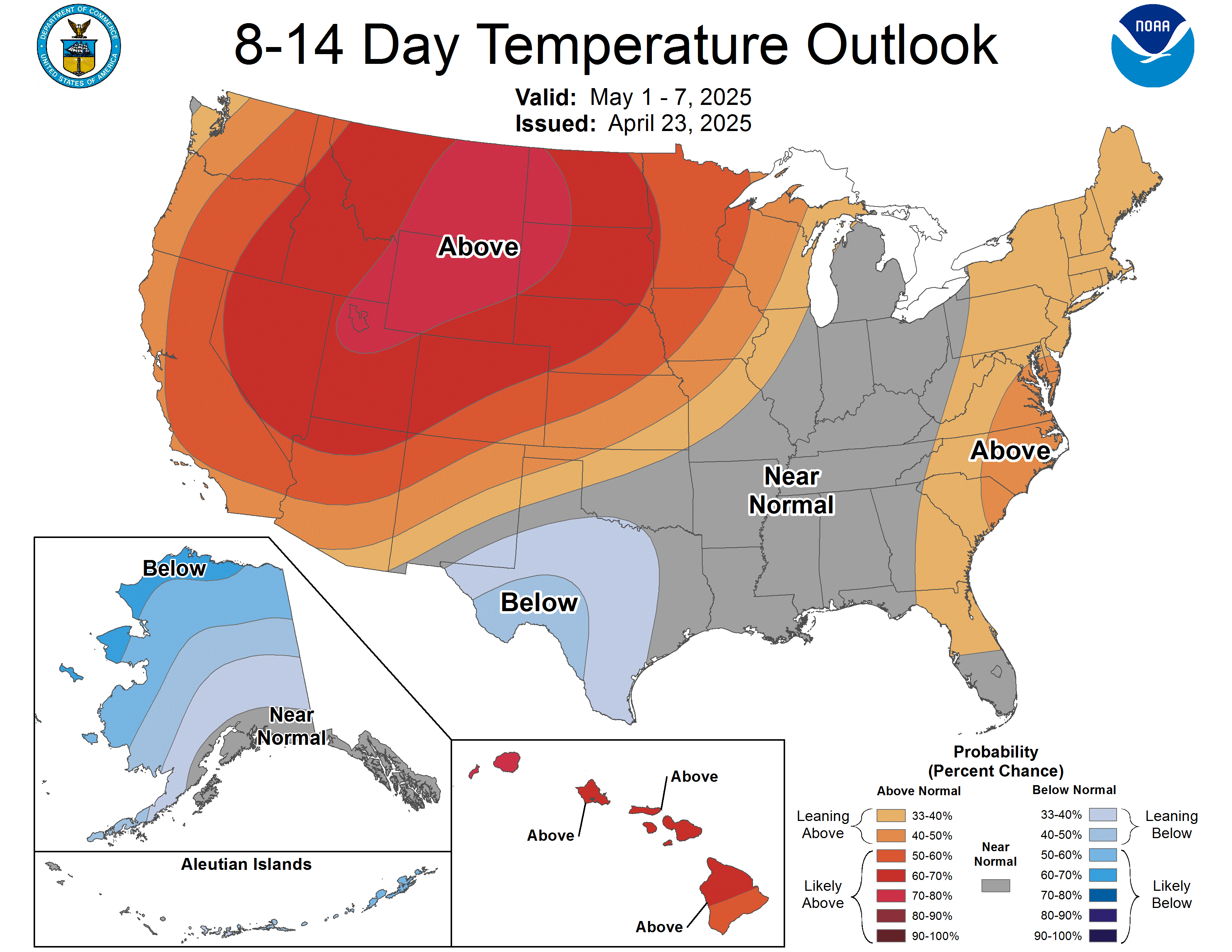 Above is the 8-14 day outlook just updated from the Climate prediction center, and we can clearly see the pattern shift in action , this confirms the post from Monday
Above is the peak of the warm up over the east, which should be between late this weekend and early next week, this is specifically Tuesday or about 6 days out
We can see by the time we get to-day 9 the models are really picking up on this pattern reload, and a pattern like this wont be moving out quickly, especially with a nice -NAO trying to form.
Not only is all the model guidance catching onto this idea, but just the overall developments in the pattern support this, with the slowly evolving El Nino keeping the MJO in or around phases 8,1 and above average water temperatures in the Northeast Pacific keeping a dominant ridge building into Alaska and into the western US, so basically enjoy to late spring to even somewhat summery warmth over the next 7 days because a return to below average temperatures isn't too far away, but of course as we head into mid to late May below average temperatures are still rather nice!
Long Range Outlook
May 5th 2014
This is the first official long range outlook and will cover from May 5th to June 5th
This post will focus more so on the longer range as we head throughout the rest of May and a peek into the potential pattern setting up as we head towards summer
This spring so far has been over generally on the cool side , with on and off stormy periods, some brief warm ups and really overall a pretty typical northeastern US spring (again a bit on the cool side and definitely wet ) , it seems worse than it is because the last several years we had such a bad winter, and the last several years (besides last year) have featured early springs and generally unseasonably mild spring seasons ,  March was well below average temperature wise and the first full month of spring,  April was below average but only by 0.5 degree south and west portions (Philadelphia points southwest)  to around 2 degrees below average to the northeast (NYC area points northeast), precipitation for March was near to slightly above average, it would have been well below average for a lot  of the area (especially northern portions where dry air and cold air masses which kept most of the storms and snow threats over SE PA and southern NJ, those areas had solidly above average precipitation)  but we had a big storm come through late in the month that dumped 3-5 inches of rain which helped us catch up big time, April was well above normal in the precipitation department, with a fairly similar set up, most of the month was drier than usual but a big storm the last few days of the month that bought 3 to as much as 6+ inches of rain sky rocketed precipitation to well above normal levels. But overall the spring has not been all that bad because while precipitation is well above average, it came mostly in 2 distinct storms rather than spread out in a bunch of miserable rainy days ,  of course this is coming from someone who loves cool, stormy weather so im sure many of you have much different opinions!
As we head over the next 10 days or so as I stated in the previous blog we will see more in the way of periods of warm and even humid weather which will satisfy many of you as a lot of the area will catch up on missed 70+ degree days although it will be volatile at the same time with stormy conditions.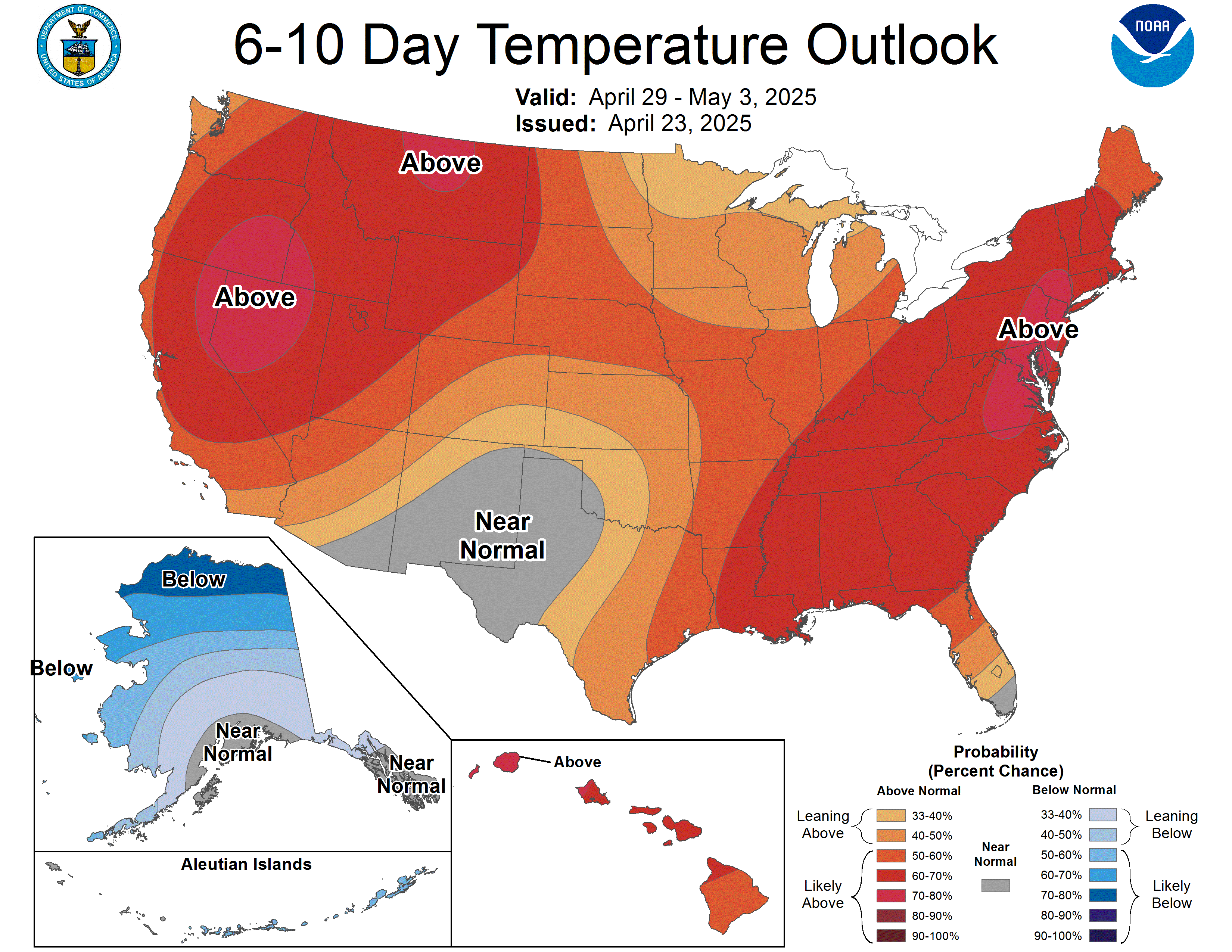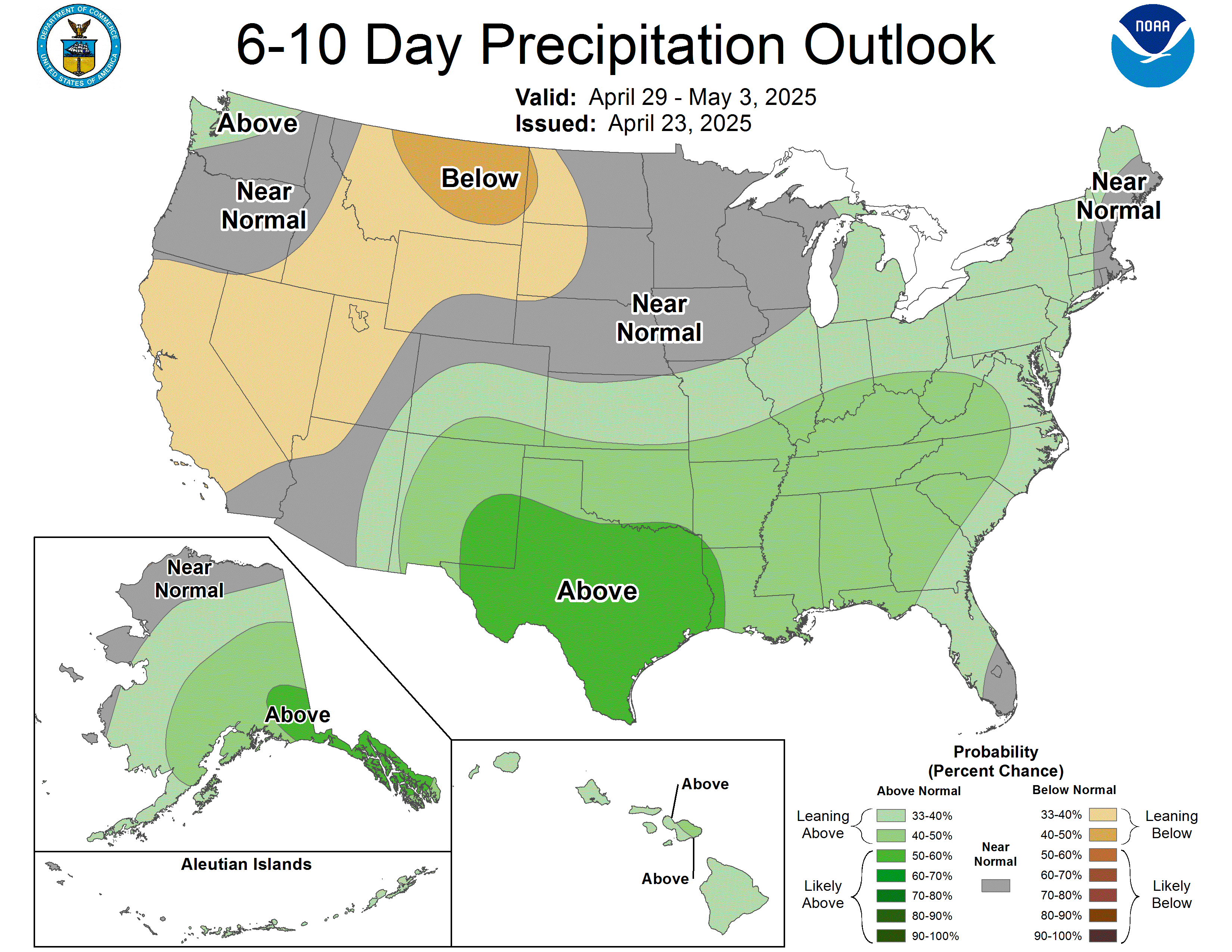 As we can see as stated in the previous blog a bit of a battle zone will set up over the forecast area, but it does appear the above average warmth will win out in the 10 day period, this battle will bring above average precipitation too
I believe this pattern with a defined southeastern ridge will be short-lived though, as I believe this is more of a relaxation in the pattern rather than a pattern change , the only change really coming is in terms of temperature anyway
We can see a nice trough is developing near the Aleutians, this has been the theme since December which has been  one of the primary reasons for our cool and stormy pattern since then , this trough will shift eastward slowly over the next 10 days into the west and eventually Central US which is what will help enhance the southeast ridging a bit, which is what will be responsible for bringing a mean of above average warmth starting later this week and lasting into next week.
However as im sure many of you know we have a developing El Nino, which is above average sea surface temperatures in the equatorial Pacific, and the way the warmest SSTs are setting up, it will allow the MJO to generally stay in the Phase 1 territory which is indicative of a -EPO pattern ( the trough around the Aleutians, and thus the downstream pattern of a trough over the Midwest and Eastern US) so while the EPO will briefly break down it is likely to rebuild quickly as we head towards mid May.
The slow-moving cold fronts we will see over the next 10 days will be gradually breaking down the developing weather pattern of a ridge building over the Southeast and Central US , trying to build into the Northeast as well, and the secondary cold front that will suppress the ridging back to the south and west towards the Southeast and South Central US looks to come around the 10 day period with the rebuilding of the -EPO and rejuvenation of the dominant Pacific pattern, between a + PDO developing and a El Nino developing there isn't much hope for any prolonged heat or above average warmth over the Northern Mid Atlantic and northeast going through May and probably as we head at least into early summer . This trough will shift our dominant flow from Southwest over the next 10 days (thus the warmth and humidity) to more of a northwesterly flow with more in the way of Canadian air masses
One thing that likely wont change too much is the stormy pattern , with a very active sub tropical jet stream (result of the developing El Nino) and an active and  amped Polar jet stream, there should be plenty of storm systems to track, but I do believe the trough that sets up over the Central /Western US will shift east between days 8-14 , (albeit slowly) , by mid May ( say between the 15th-20th, I expect a trough to become dominant once again over the Midwest, Ohio Valley extending into the Northeast. With this being said the way the pattern is developing I do not expect a complete break down of the Southeast ridge which will keep a battle zone going with slow-moving frontal boundaries and stormy conditions continuing.
Above is day 10 and after a warm, volatile period of weather between days 5-10 we can see a nice ridge redeveloping in the east Pacific and western US , and a trough once again becoming a dominant feature in our weather , the above average Atlantic SSTs also may allow for a negative NAO to become more of a dominant feature which is why while the warm stormy pattern will be somewhat slow to move out, once the trough comes back east it will be forced to lock into place. The bulk of the trough is likely to set up over the Great Lakes which will allow for on and off Canadian air masses to intrude when it swing east but will also keep us on the eastern side of the trough a lot with a lot of storm threats, this is the pattern I expect to lock in for the second half of May and going into June.
So in summary, after the next couple days a period of overall above normal warmth will take over , more likely Philadelphia points southwest, while NYC points northeast should be slightly above normal at least, the temperatures may be more volatile here with Marine influence etc., so while Philly may actually average a good amount above average over the next 10 days, NYC area points northeast may only average a bit above normal.
Then after the 15th of May, starting next weekend after a couple of slow-moving cold fronts come through I expect a pattern changing or pattern shifting cold front to come through , with  a temperature scheme to average slightly below average for the area,  with near to slightly below average temperatures to the southwest (closer to the Southeast riding)  to perhaps fairly solidly below average as you head north and east (farther away from Southeast riding, closer to the Marine influence)  for the second half of the month as the southeast ridging gets shunted south and west , the stormy conditions will likely remain as the southeast ridge will still try to fight back occasionally and battle with occasional Canadian air mass intruding from the northwest and occasionally more of a Marine air mass trying to invade from the northeast due to a developing -NAO and back door cold fronts etc.)  , but with the southeast ridge still in play and the fact that we are heading towards summer , there  will naturally be some warm spells ahead of cold fronts but overall those will be brief and  I expect the 2nd half of May compared to averages to be much cooler than the first half of the month will end, stormy and wet conditions will likely remain in place, and the general theme of cool and wet looks to continue for the most part.
As we head towards June I don't really see much to argue for any real big changes in the pattern that would allow any sustained above average warmth or heat waves to enter the Northeast US , sure we will see some of these relaxation periods and periods of warmth and humidity, just naturally because it will be heading into summer,  but there's nothing to argue for and any big drivers to suggest  a dominant pattern change to bring dominant ridging, prolonged warmth/heat and dry weather to the east, so I very well expect the same general them to last into June as well.
As for the bulk of summer I will have a more detailed forecast out sometime in the next 2 weeks as the factors for the summer forecast are starting to fall into place, I want to study what happens over the next 10 days or so before coming up with an official summer forecast, the date it will be issued is still TBD but probably sometime between May 15th-20th, it's a bit later than most summer forecasts but id rather be accurate then be too early! The forecast will contain a month to month analysis and all the drivers of the weather pattern, much like the other seasonal outlooks that have been published on this site (:
I hope you enjoyed reading this blog as much as I enjoyed typing it up with my extreme love for nature and weather !